Phil Evans, Business Line Manager for Telecoms at TÜV SÜD, a global product testing and certification organisation gives an insight into the world of SAR beacon testing.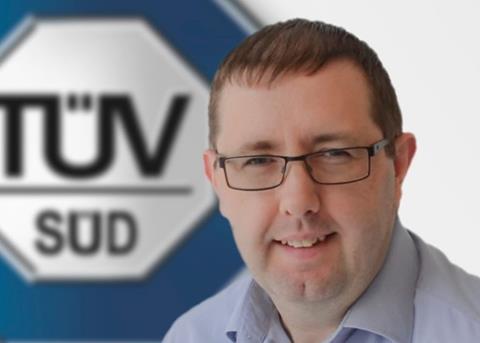 Emergency beacon technology is continually changing in order to keep pace with the new wireless technologies available. Testing them involves proving that they are capable of withstanding whatever stresses a harsh environment can throw at them, and that they will continue to operate in the manner to which they were designed. In addition, they usually need to be certified for compliance with local legislation before being put into use in whatever country they are deployed.
The International Cospas-Sarsat Programme is the international distress alert and location system. Its new MEOSAR (Medium Earth Orbit Search and Rescue System) delivers global coverage, near-instantaneous distress beacon detection and a unique Return Link Service (RLS) feature that acknowledges distress signal receipt. Alongside this, new second-generation search and rescue distress beacons will provide additional rescue functions and increased accuracy. They are required to be fully compatible with MEOSAR and the Global Navigation Satellite System (GNSS). They must also be compliant with the Cospas-Sarsat international standards.
Second-generation search and rescue distress beacon technology will be included in the following products:
* Emergency Locator Transmitter (ELT) - used in aircraft to indicate the location and the identity of an aircraft in distress.
* An Emergency Position Indicating Radiobeacon (EPIRB) – used by the maritime sector to indicate the location and the identity of a distressed vessel.
* A Personal Locator Beacon (PLB) – which are designed to be carried by an individual person.
The signal of all these technologies can be detected by the Cospas-Sarsat satellite network anywhere in the world, which alerts the nearest rescue authority. Manufacturers must therefore ensure that they are designed to operate the requirements of the latest Cospas-Sarsat test standards and regulation.
Manufacturers of electronic marine equipment are under pressure to meet the complex compliance requirements of international radio equipment standards. In the highly competitive marine equipment market, they must also prove that products have the build quality to remain operational, even in the most extreme sea conditions, without electromagnetic disturbances interfering with functionality. All this must be achieved in a short timescale to ensure that demanding time to market deadlines are achieved. While MEOSAR introduces many life-saving innovations to mariners, marine beacon manufacturers must make a significant step change in their approach to product development in order to deliver on this.
TÜV SÜD is one of the world's leading experts in product testing and certification, with 150,000 product certificates in circulation globally. Its Product Service division analyses over 20,000 products each year in Europe, Asia-Pacific and the Americas, using its technical expertise to help customers optimise market access.