A new MBNA Thames Clipper River Bus has been launched which will service the UK's new Battersea Power Station development.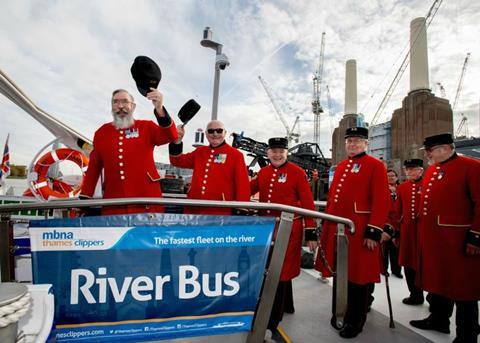 British Army veterans from the Chelsea Pensioners, who will get free travel for life on the service, were there to mark the launch, with Val Shawcross CBE, Deputy Mayor of London for Transport and Cllr Govindia, leader of Wandsworth Council.
"Battersea Power Station marks the 22nd pier in our network. It is a key location that is of real benefit to the already four million passengers who use our services and will open up efficient and comfortable transport across London to residents of a dynamic area," said Sean Collins, CEO of MBNA Thames Clippers.
Better connected
The River Bus service brings Battersea Power Station within 15 minutes of Embankment for the West End, 19 minutes of Blackfriars for the City and 40 minutes of Canary Wharf. Boats run every 20 minutes during peak commuting hours and every 30 minutes off-peak and at weekends.
"The launch of the River Bus service is a major milestone for Battersea Power Station, connecting our residents directly to the West End and beyond, and bringing visitors to our new shops and restaurants," said Simon Murphy, CFO and Deputy CEO of Battersea Power Station Development Company.
The service provides an additional route for residents and workers at Battersea Power Station, as well as the thousands of visitors to Circus West Village, the first phase of the regeneration project to complete.
Circus West Village is the home of several new restaurants, bars, shops, cafes and a new arts and events venue, The Village Hall.
By Anne-Marie Causer