Landau took the including the overall 'Spirit of Innovation' Award at the 2018 European Commercial Marine Awards held on 3 July at Seawork International 2018.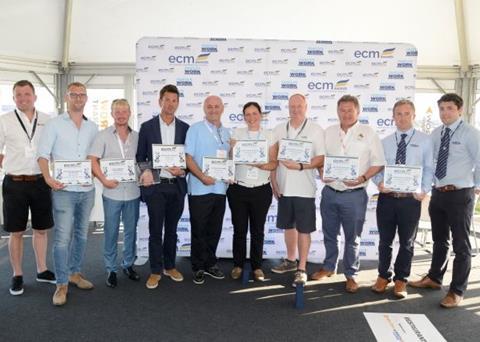 The judges were impressed by the Life Cord, distributed in the UK by Landau Marine, which is the only 'smart' kill cord of its kind incorporating detection technology, designed to trigger an audible and visual warning alarm. The judges felt that this device would certainly save lives as it greatly reduces the chances of kill cord attachment being forgotten by distracted fast craft operators.
Further Innovation category awards went to Hull Vane, which received the award under the Vessel Design and Construction category for the use of its underwater foil technology and hull design for Rotterdam patrol vessel RPA-8.
Topbond won Marine Civil Engineering & Construction for its London City Airport expansion project.
Meanwhile, Barrus was awarded the Marine Equipment, Electronics and Materials category award for its FAST PIRS system for restarting waterlogged and inverted four stroke outboards, and Avon won the Diving & Underwater category for its MCM100 dive system.
Celebrating innovation
The ECM Maritime Professional of the Year, sponsored by Webasto and presented by Webasto's Marine Market Manager - Andy Edwards, went to James Walker of Walker Marine Design.
The ECM Marine Sustainability award, presented by Malcolm Stewart, managing director, A-Plan, went to to Torqeedo for the ECOCAT Zero-Emission Solar-Electric Passenger Ferry.
Andrew Webster CEO of the show organiser, Mercator Media Ltd, awarded The ECM Lifetime Achievement award to Stavros Lalizas of Lalizas.
Sandy Messaropoulou, design engineer at Lalizas, who nominated Mr Lalizas for the award, said: "Throughout his 36 years of career in manufacturing life jackets under the name of LALIZAS, Sandy has shown outstanding vision towards the growth of the LALIZAS brand. A small local company located right next to the Port of Piraeus has grown over the years to become a worldwide organisation with commercial presence in more than 129 countries."
The new award, to celebrate the 21st edition of Seawork, was the Young Person's Development Award which was presented to Robert Deakes from CQC/Bideford College. Robert said that he intends to use the £850 bursary on a hot-air welding course, which will enable him to develop and prototype new safety equipment.
The prestigious Maritime Best Project Award, newly introduced for 2018, which recognises the importance of marine civil projects, was awarded to Red7Marine for its work on the Thames Tideway Tunnel Project.