Ian Baylis, founder of Seacat Services, completes the speaker line-up at Session 2 of the CMN taking place on 3rd November 2021 at the COP26 International Maritime Hub, hosted by the City of Glasgow College in partnership with Maritime UK.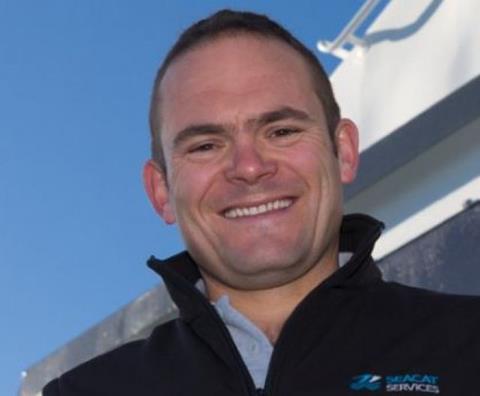 As an early adopter of a Carbon Management Plan, learn from Ian how the Seacat Services business and fleet are making significant steps towards achieving the main goal of reducing its environmental impact and lowering emissions.
Ian comments, 'The seemingly daft contradiction that we are burning fossil fuels to build wind farms is a fascinating challenge we have to solve. Many different technologies are advancing at pace and we look forward to a significant breakthrough in the near future that will enable us to fully decarbonise the workboat sector. However, it's important to understand there are a number of meaningful steps we can already take to significantly lower our vessel and wider business emissions."
Ian will highlight activities driving efficiencies across the fleet with alternative fuels; advanced monitoring systems; and improved vessel design with more efficient hydro-dynamic hulls and foil packages. But it doesn't stop there, as Ian will expand on how businesses can reduce their overall impact by using the carbon management plan as the tool to identify areas of improvement such as: how sites and facilities are powered; the composition and utilisation of vehicle fleets; and the impact of all forms of travel.
'Best of Decarbonisation - Showcasing industry success: How to reduce fleet emissions - Learning from real world implementation.' Session 2 of the CMN 'Get Set for Workboat 2050', is a hybrid event – both online and in-person on Wednesday 3 November from 15:30 – 16:30 UTC
Book your place now! Sign up to attend virtually here or if you would like to attend in-person at COP26 please contact swattam@mercatormedia.com