Innovative renewable developments are being helped by a logging device for mooring loads.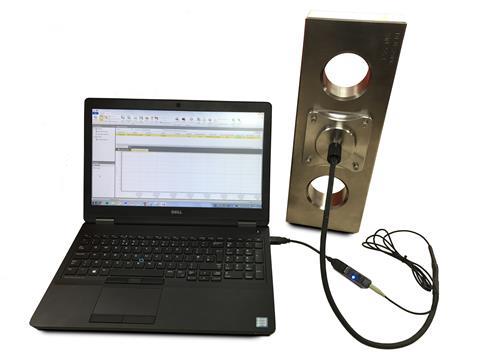 Dynamic Load Monitoring (DLM)'s subsea data logging link is a small unit, seemingly of stainless steel, but fitted with strain gauges which allow the tensile stress to be recorded internally for up to a year even when at 3,000m below.
Built in stainless steel or nickel plated steel, the real parlour trick is the units' sensitivity: as DLM's Martin Halford showed us at Seawork, while it can be built to withstand hundreds of tonnes of force, the 20kg he exerted on it with his bare hands was also logged.
With models already in the water collecting data on how much force mooring lines are experiencing, the hope is to provide a full picture of tidal forces affecting, for instance, a moored array "over the course of its deployment" said Mr Halford, or for use in offshore, ocean science, and subsea applications. The data is saved as a CSV file, and a cable can run from the unit to the surface where it can be added directly to Excel spreadsheets.
With a complete picture of the kind of strain moorings are exposed to, different tensile strength chains can be set as needed, adding to overall efficiency in every application. Good datasets of tidal forces can allow the deployment of just the right weight, indicating both where a stronger chain is needed, as well as where a lighter structure would do the job.
Several units have already gone to the Indian Oceanographic institute for scientific use, and similar five tonne calibrated units found a home in Canadian waters. A 55 tonne calibrated unit has gone to Japan to paint a clearer picture of tidal forces for the sake of tidal electric generation, and units can be calibrated for up to 200 tonnes. DLM is likewise expanding its global reach: there's a Nigerian distributor and its units are now available in Singapore through a local partner.
Finally, it's certain that getting high-quality data on tidal pull is worth kilowatts as more of the sea's great motion is being harnessed to power society at large.