A cutting-edge auxiliary wind propulsion concept for ships has recently won a prestigious German design award.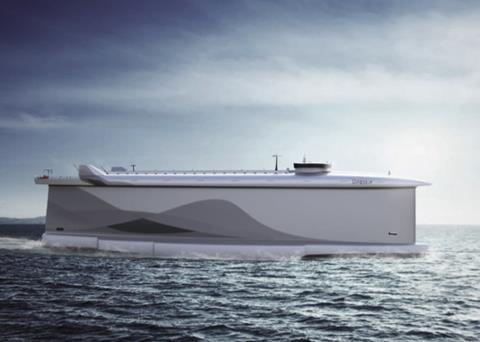 Vindskip, developed by company Lade AS, Ålesund, Norway, is the winner of the German Design Award 2020 in the category Excellent Product Design - Conceptual Transport.
Organised by the German Design Council and judged by an international jury of experts, it is one of the most renowned design competitions worldwide and enjoys an excellent reputation far beyond circles of experts. The prize will be awarded in Frankfurt on February 7, 2020.
The jury consists of 37 recognized experts from various fields of industry, academia, science and design.
In the jury's statement, they emphasize on the exceptional and futuristic design of the hull, which also serves as a sail, combining advanced lightweight construction with outstanding aerodynamics and water displacement. An extremely futuristic ship that impresses both formally and functionally.
The shape of the hull above the waterline forms a symmetrical wing, contributing to forward propulsion once the LNG propulsion system gets the vessel up to a certain speed.
Solar cells and batteries will also contribute to reduce the energy consumption on board.
In addition, a completely new data management system has been developed helping the captain choose the best route at any time, meeting the estimated time of arrival, ETA, with the lowest possible fuel consumption. Thus, the ship can be operated autonomously.
By Jake Frith