What is set to be the world's largest offshore windfarm has secured the services of what is set to be the world's largest jack-up installation vessel, despite the fact that neither of them have yet been built.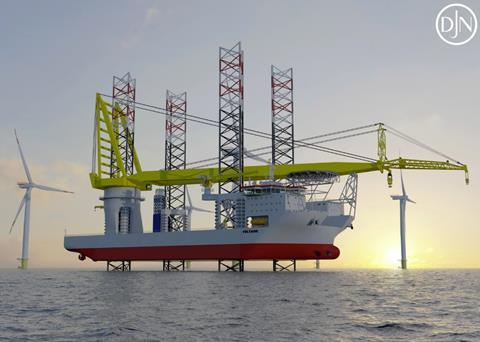 The Jan De Nul-owned Voltaire, a new offshore jack-up installation vessel, with a lifting capacity of over 3,000 tonnes and standing taller than the Eiffel tower, is set to be the largest of its kind in the world when it enters service in 2022.
The Voltaire will transport and install the world's largest offshore wind turbines, GE's Haliade-X, at Dogger Bank, which sits 130km off the Yorkshire coast. When complete, Dogger Bank will generate enough energy to power over 4.5 million homes every year – around 5% of the UK's electricity needs.
The announcement marks the first contract placed for Voltaire. The vessel, named after the pioneering European Enlightenment philosopher, is fitted with a highly advanced exhaust filtering system by means of a Selective Catalytic Reduction system and a Diesel Particulate Filter, making it the very first seagoing installation vessel of its kind to be an Ultra-Low Emission vessel.
Steve Wilson, Project Director of Dogger Bank Wind Farms: "Jan De Nul Group has a proven track record of transporting and installing new generation offshore wind turbines at scale. Delivering Dogger Bank will be a testament to the skills and expertise of all of our partners in the supply chain, so we are very pleased to welcome Jan De Nul Group on board. Bringing the Voltaire vessel into the Dogger Bank project means we now have the most innovative turbines on the market being installed by the largest jack up vessel ever seen in the industry."
Dogger Bank Wind Farms secured 3.6GW of offshore wind contracts in the UK Government's recent record breaking contracts for difference auctions.
Record low prices were awarded for the three projects making up Dogger Bank Wind Farms: Creyke Beck A, Creyke Beck B and Teesside A. The project is now moving towards final investment decision, expected in 2020. SSE Renewables will lead the development and construction phases of Dogger Bank Wind Farms and Equinor will lead on operations.
By Jake Frith