One of world's leading manufacturers of marine propulsion systems, announced the 1,000th reference for its leading tug propulsion system.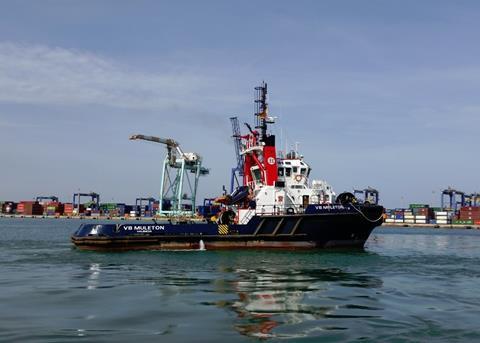 Germany-headquartered Schottel recently celebrated the delivery of its 1000th SRP 460 rudderpropeller, a milestone that Schottel claims makes the SRP 460 'the most successful azimuth thruster worldwide'. With a maximum power rating for tug duties of up to 2,350kW per engine, rudderpropellers such as the SRP 460 are among Schottel's bestsellers. To ensure it always offers customers state-of-the-art design, construction and economical operation, the SRP 460 has undergone several technical updates through the years.
Following its launch in the late 1990s, the first SRP 460 (formerly SRP 1515) was delivered to the Danish tug operator Svitzer in 1999. The company's harbour tug Mussandam was equipped with two Schottel Rudderpropellers type SRP 460 – each with an input power of 1,850kW. The tug is currently being operated by the Spanish shipping company Boluda under the name VB Muleton. The two original SRP 460 thrusters have now been in operation for more than 20 years and still provide the vessel with maximum manoeuvrability and bollard pull.
To keep the rudderpropellers state-of-the-art, several technical updates have been carried out in the years since first delivery. These increased input speeds and propeller diameter. The latest update also led to the development of the Rudderpropeller type SRP 490, the enlarged version of the SRP 460. It stands out with a propeller diameter of up to 2.80m and a tug duty of up to 2,550kW per engine.
Thanks to continuous further developments, the SRP 460 is also available in numerous other forms. These include the Combi Drive (SCD), in which the electric motor is integrated vertically into the rudderpropeller, as well as the Twin Propeller (STP) for vessels which require high efficiency at limited draft and large propeller clearance. Beyond this, there is a retractable rudderpropeller (SRP R) variant deliverable, which offers greater flexibility in terms of design and operational profiles, and a Rudder EcoPeller® (SRE), which is characterized by top performance in terms of overall efficiency and course-keeping stability.
In addition, the recently introduced Sydrive hybrid azimuth propulsion systems (Sydrive-E and Sydrive-M) offer unlimited flexibility in any hybrid vessel design. With these systems, new upper gears for all input rpm enable optional hybrid propulsion as well as flexible installation variants for all hull forms.
By Jake Frith