Japanese headquartered global electronics manufacturer Standard Horizon has announce the launch of its latest fixed DSC VHF set, the GX1300E Eclipse, which has been made thinner to increase mounting options.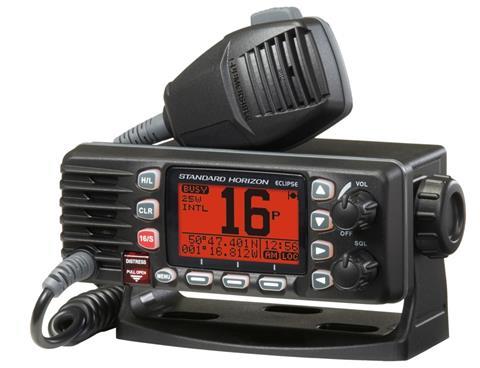 As an evolution of the GX1200E, the new set takes Standard Horizon's GX concept a step forward with an increased display screen size that allows information to be seen easily and clearly.
The depth of the chassis has been reduced, which greatly increases the mounting options, especially on flush mount dashboards. As such, according to Standard Horizon the GX1300E remains one of the smallest fixed DSC VHF transceivers available today, at a highly compact 2.4"H x 6.1"D x 5.9"D (61mm x 155mm x 150mm).
Standard Horizon's waterproofing has also been taken to a new level, quite literally, from IPX7 (1 metre submersion for 30 mins) to IPX8, a full half-metre deeper. This makes it ideal for open, high-powered craft where the spray will be flying, such as RIBs, safety and assault craft. To aid transmission in these boisterous conditions, the microphone features Clear Voice Technology, which cleverly filters out any unwanted background noise.
When the DSC is connected to an external GPS receiver via an NMEA cable, the boat's current position and other navigational data are displayed on the oversized backlit screen. The brightness and contrast are all fully adjustable, and the set can be programmed to poll the position of up to 4 other DSC-equipped vessels.
With the E suffix denoting the set's EU configuration, the mandatory ATIS (Automatic Transmitter Identification System) can be activated via the front panel for use on the inland waterways of Europe.
The claimed current draw from a 12-volt supply is just 0.3A in standby mode, rising to 1.0A when receiving, and only 5.5A when transmitting at full power (25W).
The GX1300E has all the usual VHF functions, such as low and high power (1W-25W) settings, dual watch, priority scan and one-button Channel 16 selection. Some functions, such as the most commonly used channels, can be customized by the soft keys.
For emergencies, there is a clearly labelled DSC distress button, which will also automatically transmit the unit's position when the GPS is connected. Alternatively, a position can be entered manually, and there is also a DSC test call facility.
By Jake Frith