Tuco Marine Group has added a new member to the ProZero series of carbon fibre-based workboats – the ProZero 7.5m SOLAS FRC MrK 3.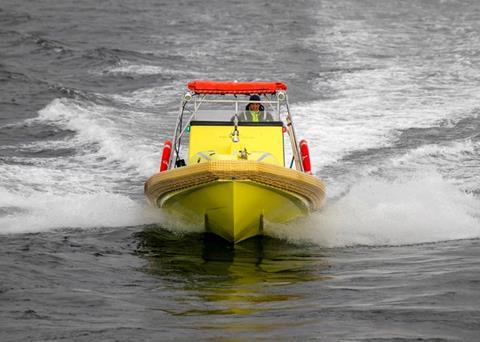 The new FRC (Fast Rescue Craft) is a third-generation design built around the already well proven ProZero 7.5-metre Fast Rescue Boat. The first two iterations of the 7.5-metre FRC design have been developed and tested thoroughly during the ProZero development project for which Tuco received funding under the Horizon2020 SME Instrument programme.
This development project ended in 2018, but Tuco Marine has continued to refine the project results and implement them in the ProZero series. According to Tuco the third generation FRC represents the highest level of refinement yet. The carbon fibre materials technology secures ultra-high levels of strength and durability at a very low structural weight. The new design presents a very large deck area which will accommodate large payloads or up to 16 persons. New bow and fender configurations have been added for improved safety during transfer operations across the bow.
Typically, FRCs are deployed from motherships where it is crucial to have a balanced and easily operated lifting system. The new 3rd generation ProZero FRC is delivered with a single-point hoisting system of the owner's choice. As standard the FRC features a single water jet installation, but twin water jet installations are available upon request. Tuco is planning to follow up on the new 7.5m FRC platform with both smaller and larger siblings. 6.5 and 8.5 metre versions are planned in the near future. Demonstrators are available for testing at request.
To achieve the best balance between design customisation and delivery time, Tuco has arranged the entire design and building process around a module-based system. With the modular methodology, adjustments and customisations are quick, easy and inexpensive to make.
"The module-based design makes it possible for us to offer clients a relatively short delivery time compared to the market average while providing them with a product that is tailored to their specific needs. Modularity makes it easy to maintain a very high quality standard and to keep the high level of reliability that we strive for," said Jonas Pedersen, Managing Director.
By Jake Frith