A third round of major repairs inside five years was being completed by October at Bremerhaven's trouble-plagued Kaiserschleuse ship lock, reports Tom Todd.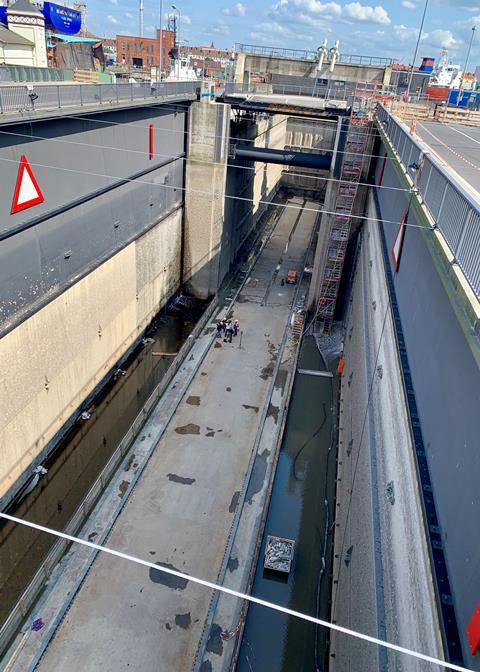 Holger Bruns, spokesman for the port management company bremenports which markets the Bremen/Bremerhaven ports complex, told Maritime Journal in September that the repair work had gone according to plan.
New tracks of particularly resistant metal had been laid to replace deformed and deteriorated lock gate tracks and the undercarriage on which the outer lock gate rests had been re-engineered and was being reinstalled, he reported.
Bruns added: "As things stand, lock restoration can be completed by the end of the month and its re-opening to shipping can follow that".
The 305m by 55m Kaiserschleuse is one of two locks for big ships in Germany's second largest universal port complex. It was opened in 2011 to replace a 215m long lock built some 130 years earlier. The new lock was designed to improve access to Bremerhaven's Kaiserhafen car terminals for giant car carriers of up to 270m long.
However, the new lock had to close down for repairs in 2014 just three years after it opened when extensive lock gate damage was discovered. The lock stayed closed until mid 2015 but just as it was due to re-open again, further lock gate damage was discovered and the facility was shut for a second time and until the end of 2015.
Bremenports told this correspondent at the time that the 2014-2015 repairs had just been "provisional and designed to make the lock availablhje to shipping again as quickly as possible". More work was being scheduled and it would be the "final refurbishment", it said.
That "final refurbishment" is the current work - which began in June this year and was due for completion by October according to Holger Bruns. The costs for the provisional repairs four years ago and the latest repairs have been put at about €24.5 million of which €2 million will be paid by bremenports for improvements which would have become necessary in any case with time.
The German city-state of Bremen has put up one third of the remaining €22.5 million while the other two thirds is being paid by the original Kaiserschleuse consortium grouping Hochtief, August Prien and Strabag.