Sanmar Shipyards has delivered a Robert Allan Ltd tractor tug to Italy's Tripmare making the third similar design vessel to operate at Ashdod Port, Israel.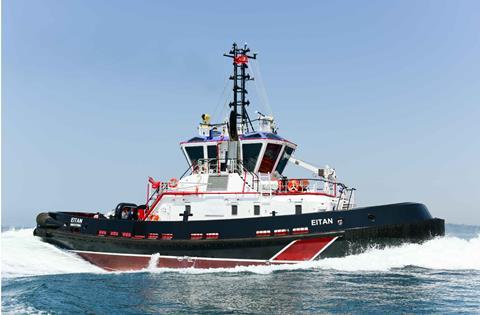 ASD tugs are obviously a popular choice for shiphandling operations but tractor tugs, in this case powered by Voith Schneider cycloidal propulsion units also remain in demand and Eitan, delivered recently to Tripmare SpA joins two other RAL VectRA AVT 3000 tugs Arie A and Ashdod operated by Ashdod Port Co Ltd.
An impressive 73.5tbp along with escort steering forces above 100t are quoted for Eitan which is powered by two Caterpillar 3516C high speed main engines each rated 2,525kW and powering Voith 32RV5 EC/265-2 cycloidal propellers via Reintjes WAF 863 gearboxes with integral clutches. Vulkan composite shafts were specified over traditional turbo couplings, Sanmar stating: 'This combination is smaller, lighter and less costly than the traditional medium speed drive system.' Eitan also has fire-fighting and oil recovery capabilities.
Main dimensions include LOA 30.25m, moulded beam 13m and navigational draught 6.6m. Towing provision is extensive comprising a double-drum escort winch and escort-rated staple aft in typical tractor configuration enhanced by radial tow hooks both forward and aft. The winch's capacity of 150m of synthetic line on one drum and 710m of steel wire on the other indicates a capability of operations other than just shiphandling.
Also in tractor configuration style, the heavy-duty fendering arrangement is concentrated towards the stern featuring cylindrical type with a course of 'W' fenders below. Hollow 'D' fenders protect the sheer lines which tie neatly into 'W' fenders at Eitan's bow. Accommodation for six persons is provided at main deck level, cabins comprising four single and one double each with en-suite facilities. A lounge/mess area and galley are also located in the deckhouse with galley stores and laundry room below main deck forward.
One of the notable advances in modern shiphandling tug design is how the wheelhouse layout has evolved with safety and comfort in mind for the shiphandler who often has to spend long periods seated in the one position and the VectRA marque features 360' visibility including overhead windows. The split style of console is adopted, biased aft providing clear views of the working deck including winch, staple, bulwarks and fenders.
By Peter Barker