Damen Dredging Equipment in the Netherlands made an impressive newbuild delivery in September, providing a client with a cutter suction dredger only three days after the sales contract was signed.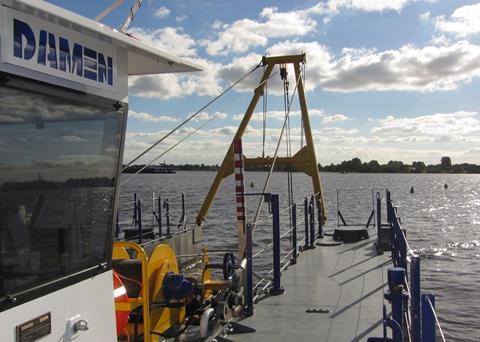 Contractor Van der Lees required the Damen CSD450 to start winning sand at its Frisian motorway project as soon as possible. A contract was signed on a Thursday and Damen was able to prepare a vessel from stock on the Friday and tow it to the north of the country over the weekend, so that it could make a flying start on the Monday.
The stationary dredger is a standard Damen product from a range of standard dredgers which are readily available from stock. They are prepared for customisation through standard options and can leave Damen's Nijkerk yard in a very short time span.
The Dutch contractor Van der Lee is currently working on the motorway fly-over project near Joure, in the north of the Netherlands. This Damen CSD450 is their first stationary dredger. It will mine sand at a dredging depth between 2m and 6m, pumping it over a maximum distance of 6.5 km using three booster stations – all equipped with Damen dredge pumps.
The Damen field service crew commissioned the CSD450 on site on Monday 19 September and the dredger has been producing plenty of sand ever since.
By Larz Bourne