A thruster package will enable Boskalis to convert an existing hull to create the crane vessel Bokalift 2.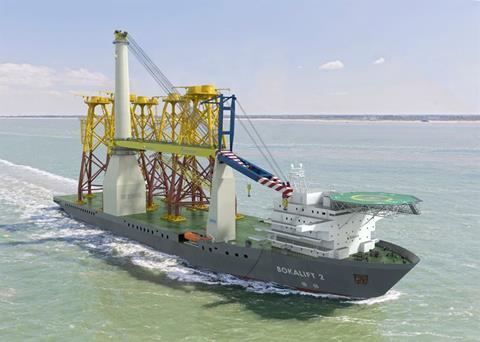 Wärtsilä will supply four retractable steerable thrusters and thruster controls, as well as two tunnel thrusters for the project. The retraction system, combined with the energy efficient 8-degree tilted propeller shaft on the retractable thrusters is a key factor in enabling effective station-keeping performance.
"Wärtsilä's thruster solutions enable this kind of high specification vessel to operate successfully in sustainable energy installation projects. Furthermore, the energy efficiency of our thrusters reduces fuel consumption, which at the same time limits emission levels," said Stefan Wiik, vice president of asset management services at Wärtsilä Marine.
Large-scale retractable thrusters are essential to solving operational challenges of this type. The thrusters' retractability also enables shallow draft operations. Wärtsilä's extensive in-house capabilities across multiple disciplines were cited as being critical to addressing this complex conversion project.
The order was placed in December 2019.
Boskalis' trailing suction hopper dredger Willem van Oranje' will be the first dredging vessel in the world to operate on 100% biofuel oil. This the result of the 'Boskalis on Bio' pilot programme launched in 2015 in cooperation with Wartsila and GoodFuels.
By Rebecca Jeffrey