Kongsberg Maritime has agreed a contract with Finnish tug owner Alfons Håkans providing its Extended Thruster Coverage (ETC) support to two new ice-breaking tugs.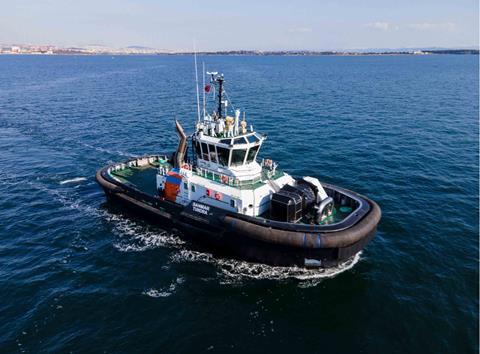 In this month's delivery round-up mention is made of Selene, the first of two ice-breaking escort tugs for Alfons Håkans. Taking delivery of a new tug is just the start of the journey whereby providing a reliable service throughout its lifespan from maintenance of critical components is important and the ETC contract will see Kongsberg develop a service programme for the vessels' type US255 thrusters and their ND Aquapilot remote control systems, an arrangement based on a fixed annual fee over Kongsberg's previous time and material-based customer support approach.
The potential benefits for both parties are evident with Håkans operating over 20 tugs fitted with Kongsberg ASD thrusters and while reliability is described as 'very good' ETC is expected to make it even higher ensuring the risk of unexpected service stops is 'very low'.
Ordering spare parts and scheduling maintenance intervals has traditionally been the responsibility of the tugs' crews on an ad-hoc basis. Kongsberg report however that this approach has often bred uncertainty over service availability in the event of unforeseen incidents, as well as concerns over potential price fluctuations. A far greater degree of critical disruption risk is absorbed by Kongsberg with the ETC arrangement which accommodates both planned and unplanned maintenance over the thruster's entire lifecycle.
Data from daily operations is used to develop a proactive maintenance schedule and ETC includes a commitment from Kongsberg to supply all consumables and contingency parts to maintain thruster serviceability over the entire duration of the warranty period which could be anything from five to 15 years depending on the customer's requirements.
Kongsberg states that the level of attention mirrors the technical and operational support provided by a single point of contact from its dedicated ETC management team. Transparency and close collaboration with customers and third parties are cited as key principles including planning docking activities in consultation with vessel owners and shipyards.
Tuomas Raumanen, technical manager at Alfons Håkans, says: "This contract will be beneficial to both parties both economically and technically, and we believe that this will be a turning point for whole industry as it moves towards long term service agreements."
By Peter Barker