Cabling technology company Tratos has supplied tidal energy R&D Company Scotrenewables with an Italian -manufactured bespoke cable solution for its SR2000 2MW tidal turbine testing programme at the European Marine Energy Centre (EMEC), Orkney.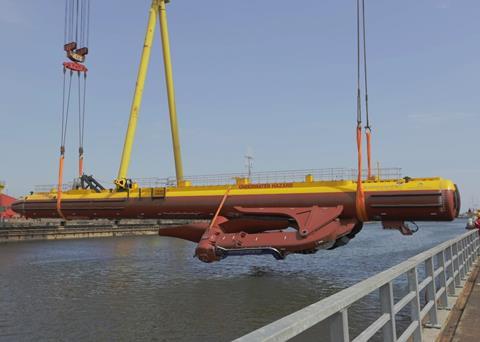 A follow up to trials on its previous prototype, the SR250 250kW, three years ago, the cable system integrates existing power and communications technologies into a combined, robust solution for challenging tidal environments.
Recognising this growing trend for specialist applications, Tratos, through its Academy now ensures that employees receive greater product knowledge and a better understanding of what Tratos' cables are used for.
Tratos' Technical and Development Director, Peter Waterworth, said: "This kind of work reflects the importance we place on investing in people at Tratos and the importance of continuous development. It isn't just about understanding cables and how they are made, it is also about exploring the different environments our cables serve whether it is railways, marine, oil & gas or mining and looking at how we can develop even better products for these markets."
The innovative system sees power and fibre optic cable combined to power the tidal system hook-up.
Under scrutiny is a 6-10kV, 3 core, armoured cable, perfectly designed to maintain integrity while being moved around in harsh conditions, including bend restrictions to prevent damage under the sea.
The cable integrates with Scotrenewables' 2MW tidal turbine, the SR2000, a floating tidal technology designed around the use of low cost vessels for all installation, maintenance and decommissioning operations.
Tratos describes itself as one of Europe's largest independent cable manufacturers. Celebrating 50 years in business this year, the company has five manufacturing facilities in Italy and the UK.
By Jake Frith