An amphibious excavator fitted with a submersible dredging pump enables precise harbour dredging operations to be undertaken at all states of the tide, Watson & Hillhouse has said.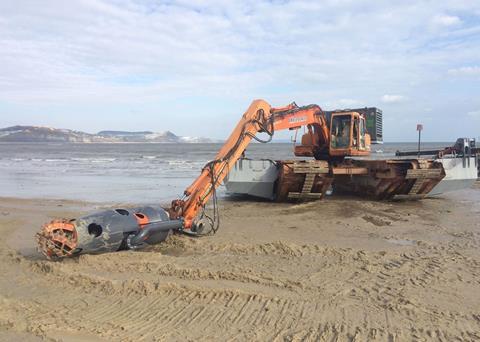 Using an amphibious excavator with a dredge pump, rather than traditional equipment comprising a barge fitted with dredging equipment or a long reach excavator fixed with a bucket, means work can be carried out more efficiently at a reduced cost, explained the company.
Axminster Excavators hired a Bell dredge pump from Watson & Hillhouse last year to perform an annual dredge on the south coast. Speaking about the project, which involved maintaining the entrance to the harbour and improving flood protection along the local coastline, director Sam Voysey said its amphibious excavator "can keep going throughout the tidal cycle" and using the Bell pump helped operations.
Flexible operation
Explaining why the company uses an amphibious excavator, he said it is more convenient than expensive vessel hire.
According to Mr Voysey, Axminster Excavators was able to work from virtually zero depth (the pump needs 0.75m of water) to 7m deep when using the amphibious excavator with spud legs.
The company found that control and output of the Bell pump was good and matching it to its machine was "definitely productive", as while "modifying the counterweight structure of the excavator to carry a power pack was challenging as clearances were tight" it provided a "matched system that was independent of the excavator".
Watson & Hillhouse will be exhibiting at the M&CCE Expo on stand 4F83.
By Rebecca Jeffrey