Mojo Maritime, a subsidiary of James Fisher Marine Services (JFMS), has won a contract with French tidal energy company Sabella SAS.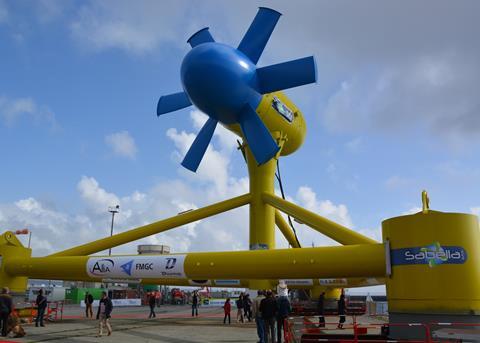 The contract is for the retrieval and demonstration of re-installation of its D10 tidal turbine to enable planned maintenance to improve a continued secure source of electricity power supply.
Fanch Le Bris, Sabella's CEO, said; "SABELLA's team really enjoyed working with Mojo on this complex project with a number of engineering and maritime challenges."
"We as a team have really appreciated your close collaboration, high level expertise and your capacity to manage potential situations of stress."
The first phase of the contract included the design and manufacture of project critical equipment, a remote launch and recovery system and docking frame.
Mojo Maritime France SAS led the retrieval project locally, this allowed efficient project management with Sabella, local sub-contractors and coordination of all logistics within French waters.
The D10 turbine exports electricity onto the French power grid, achieving 70MWh of production so far.
The device has been installed to provide electricity to nearby isolated Ushant Island, which used to produce all of its electricity with diesel generators, and its inhabitants are the first people to consume marine generated electricity in France.
Richard Parkinson, concluded: "We are very pleased to have executed the first phase of this project against challenging deadlines. I am very proud of the Mojo team for developing innovative and robust solutions allowing for rapid, efficient and safe retrieval and reinstallation of the turbine."
"The design and fabrication of the LARS and berth in such a short time, just 4 weeks, was very impressive and took a huge effort. The results were excellent and we were able to draw on years of experience operating on tidal energy projects."
The contract is a continuation of JFMS and Mojo Maritime's focus in the marine energy sector, which includes the Ramsay sound and MeyGen projects.
By Alice Mason