Netherlands based boatbuilder Tideman Boats has developed a new pilot vessel in conjunction with its customer Brabo Antwerp.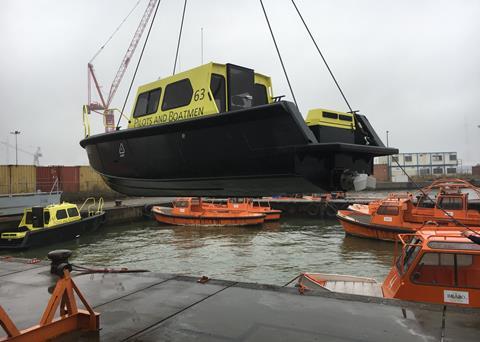 Brabo has four of these vessels in service, which is now being launched commercially as the HDPE RBB 800 WJ Cabin Pilot Boat.
"We are very pleased here at Brabo with our new fast crew tenders from Tideman Boats. This will significantly increase our services as pilots and boatmen at the Port of Antwerp," said Jeroen Dewachter, engineer at Brabo.
The vessel is a cabin version of Tideman's RBB 800 WJ hull and is equipped with a closed cabin for four to six persons. One of its key selling points is that it can be operated all year around in arctic and tropical conditions.
Inside the vessel is kitted out high quality suspension seats heating and or air-conditioning.
The main usage of the vessel is as a crew tender, pilot boat, survey boat or stand by patrol vessel. It has a cruise speed of 30 knots and is ideally suited for coastal, riverine and estuary waters.
Depending on personal preference, local circumstances and conditions, there are two possible propulsions available - diesel water jet and sterndrive or twin outboard engines.
Transport and storage is easy as this boat is easily transported using a trailer and fits inside a 40' HC. With four lifting slings the boat can be easily hoisted on board a mother vessel.
Bureau Veritas design approval is available upon request.
Tideman Boats will be on the quayside at Seawork International this year.
By Anne-Marie Causer