Holland Shipyards were given just 4 ½ months to carry out a major refit on the fisheries research vessel 'Tridens' which is owned by the Dutch government department Rijkswaterstaat. The 'Tridens' is part of their Project Organization (PPO) and the Rijksrederij which is the Dutch Ministry of Agriculture and Fisheries.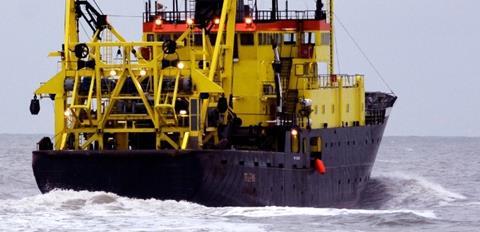 The vessel, which has undergone extensive modifications in Holland Shipyard's yard at Hardinxveld Giessendam, had to meet a very tight delivery deadline which meant that a very rigid project schedule had to be followed by all parties involved, and that there was very little room for contingencies.
The goal of the project was to extend the 1988-built vessel's operational life-cycle by another 10 years. This meant that a large part of the accommodation and technical systems were replaced which involved upgrading the accommodation and facilities for the 12 scientists that can be carried on board as well as for the crew of 21. Much of the fish handling equipment on deck was upgraded as was that on the fish processing deck below to cope with new standards and requirements. On the bridge new and modern navigation and communications systems were installed including upgraded fish-finding equipment which is at the heart of the vessels operating work.
Tridens is 73.5 metres long with a beam of 13.86 metres to give a gross tonnage of 2199 tonnes. Powered by a pair of 4352hp diesels she has a top speed of 16 knots and she primarily operates in the North Sea assessing the fish stocks and testing new types of fishing equipment. In 2014 she was fitted with an innovative drop keel system that was designed to house a new Simrad sonar unit with the new keel allowing the transducers to be lowered beneath the vessel so that they could operate in clear water away from interference from the ship's hull.
"Thanks to stringent, pre-defined, process controls and direct communication between all parties involved, the scope of works remained controllable and was ultimately delivered within the agreed timeframe" said a spokesperson for Holland Shipyards. "We thank Rijkswaterstaat, the PPO and all those who were involved for their contribution throughout the project, and we look forward to a future renewal of our cooperation. With this refit under her belt, she will be all the more productive and will remain one of the most innovative fisheries research vessels in Europe."
In addition to this type of ship refit work and new construction Holland Shipyards has made a speciality of building accommodation blocks. Recent deliveries of these accommodation blocks have been to Dutch heavy lift ships Giant 7 and one of the Jumbo Shipping fleet. These accommodation blocks are used to provide additional onboard accommodation when these ships have been involved in special construction projects.
By Dag Pike