While Jeffrey, Lord Mountevans, described the initial City of London reaction to Brexit as "shock", as Lord Mayor he was on the spot to evaluate the fallout.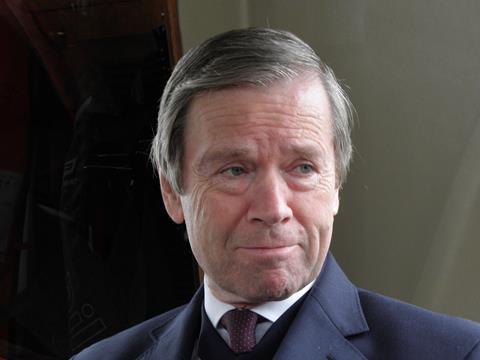 Lord Mountevans, perhaps best known to MJ readers as the author of the 'UK Plan for Maritime Growth' explained his "high octane year" has so far engaged him in more than 30 country visits and over 100 days abroad. And he added, once the first reaction had passed "you could see that there's an awful lot of opportunity that goes with it... It became clear in my travels there are a number of countries that are now seeing other possibilities in us."
"Europe will always remain our principal customer – but it's a great opportunity to grow some of our more distant markets. It was interesting that Korea was one of the first countries to respond after the exit vote and then soon after that, Australia."
He is not glossing over the issues but explained the burst of attention is logical: "After all, if you enter into a trade agreement with the EU you make it with 28 countries, and it has to work for all 28. However, individual agreements are actually much easier to make work for the maximum good of either side."
Change, after all, is inevitable: "For example I was the first mayor to visit Cuba: clearly it's very interesting as it's been a Communist country for decades, but now they want to get more involved in the international community."
Therefore the list of both potential customers and competitors is sure to evolve - and this is where the UK Plan for Maritime Growth becomes all the more relevant. Despite "a very tight timeframe" he underlined "we consulted very widely, and spoke to an awful lot of industry groups".
The results of the study made clear that "the UK's maritime business is facing increasing competition from abroad" and simply can't afford to sit on its laurels: "We cannot be complacent about our position in the global market," he said.
To this end, the Plan called for a number of elements to coordinate the industry and give more coherence, as well as providing a single point of contact and a unified cross-departmental approach; however, it also recognised that the MCA's (Maritime and Coastguard Agency) historical structure wasn't able to support the necessary changes.
Therefore the report called for a separation between the MCA's inspection arm and the UK Ship Register to allow both parts to refine their "customer focus". He explained: "The MCA is fantastic in terms of quality" but the study pointed out "the UKSR is not currently recovering its costs and the MCA in its current form is not able to retain and attract sufficient high-quality surveyors". So, he said, "it needs to deliver a speedier response... and find more ways to work with clients".
The Plan holds the potential to rock a very conservative industry and the message is, don't expect it to stop short. While some initiatives are already in place, Lord Mountevans told MJ that once his mayoral term is over, he is looking forward to "helping fully implement" the changes.
By Stevie Knight