Ship builder Harland and Wolff in Belfast has won a major contract to supply steel foundations to an innovative offshore wind farm off the Suffolk coast.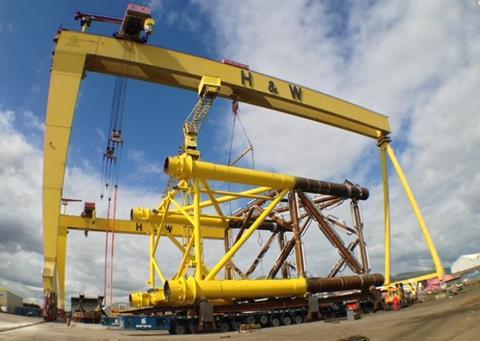 The Northern Ireland heavy industrial and ship-building company, most famous to the outside world for building the ill-fated RMS Titanic will manufacture 24 foundations for the East Anglia One project, which is being developed by ScottishPower Renewables and Vattenfall. The wind farm will be located 43km from shore and have a capacity of 714 megawatts – powering the equivalent of 500,000 UK homes. According to trade body Renewable UK, the project is currently the most cost efficient offshore wind farm to confirm construction.
RenewableUK's Chief Executive, Hugh McNeal, said: "We are a UK trade body, so for us UK jobs are always good news. This contract in Northern Ireland demonstrates the offshore wind industry's commitment to using local companies to build their projects as well as securing 200 jobs in Belfast. Harland and Wolff is an iconic company with 150 years of construction history, and it's great to see renewable energy will be playing an important role in its future. We're confident that British companies will be able to win similar work not only here, but around the world as the industry continues to grow".
The contract is said to be worth £20m and will start in the second quarter of 2017, and is due to finish by the end of 2018.
By Jake Frith