German-founded Torqeedo will display its Cruise 10.0R, Deep Blue Saildrive and Travel 1003 outboard electric motors at this year's Seawork International exhibition.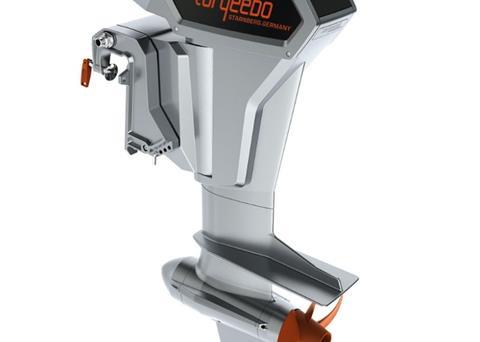 Visitors to the Southampton-based exhibition, which runs from 13-15 June, will be able to peruse the marine electric propulsion specialist's Cruise 10.0R, which boasts 12kW peak power, 10kW continuous power and a voltage level of 48V.
The emission-free model has the power for planing boats and displacement hulls up to 10 tonnes and can reach speeds of up to 17.2 knots.
In its smallest size, the Cruise 10.0R weighs 47.2kg and features a powered tilt function, with a maximum rpm standing at 1,400 rpm, and 315lbs of static thrust. It is available in three shaft lengths ranging from 38.5cm to 63.9cm.
The waterproof and salt-water capable motor is designed to withstand harsh environments and extreme conditions.
The company's Deep Blue Saildrive offers 25kW power output and sailboats up to 40 feet the opportunity to achieve maximum speeds of 18+ km per hour and propulsive power of 16.2kW.
The 3HP equivalent Travel 1003 outboard is built to easily propel tenders and smaller vessels up to 1.5 tonnes.
UK sales manager for Torqeedo, John Arnold, commented: "We always relish the opportunity to visit Seawork and meet with potential business contacts and buyers from around the world. Seawork is a great chance for Torqeedo to receive invaluable feedback from industry professionals, and we are confident that our product line-up for this year will attract and impress a whole host of visitors."
Visit Torqeedo at Seawork International 2017 on stand number PO63.
By Rebecca Jeffrey