Cargo handling specialist MacGregor has secured orders for deck machinery for eight tugs to be built in Hong Kong and a US Navy towing, salvage and rescue ship.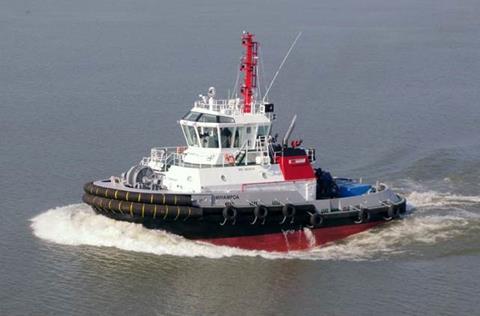 Cargotec Corporation is well known for cargo handling equipment typified by its Kalmar and Hiab brands while its MacGregor deck machinery arm (established in 1937 in the UK by the MacGregor brothers) serves a variety of vessel types including tugs and these two order announcements indicate the strength of brand in an area of ship construction at the heart of these specific ship types.
The first order involves machinery for four escort and four harbour tugs to be built at Cheoy Lee Shipyards to be operated in India, Southeast Asia and other regions around the world. MacGregor has had a long relationship with Cheoy Lee and the order involves: compact high performance escort winches, anchor windlasses, towing winches, hydraulic power packs and power take-off systems. A particular feature is a simplified structural design to reduce winch weights and improve control panel construction, the reduced winch weight and dimensions of the winch delivering a ten percent increase in vessel speed during forward tows.
The second order involves provision of deck machinery for a US Naval Sea Systems Command (NAVSEA) T-ATSX class towing, salvage and rescue ship, a new class intended for worldwide deployment. The contract is with Gulf Island Shipyards and includes the option for a further seven vessels with the equipment planned for delivery during the first quarter of 2020.
NAVSEA requirements state the vessel must have a minimum bollard pull of 118t and to meet this need the deck machinery package including a main towing and traction winch in addition to an offshore crane, Triplex shark jaws (Triplex are also a Cargotec company), towing and pop-up pins, a stern roller and other associated equipment. The package also provides for crew training along with integrated logistics support.
Høye Høyesen, vice president, advanced offshore solutions at MacGregor said: "We have a long history of offering integrated logistics support (ILS), which is essential for naval operations and influences equipment design decisions from a reliability and service perspective. We support Navies with various ILS modules to ensure that equipment is cost-effective and optimally available throughout its lifecycle."
By Peter Barker