An on-stand demonstration of Norwegian lifting hardware specialist H Henriksen''s new range of disc-type towing hooks is expected to attract the attention of many visitors to Seawork in June.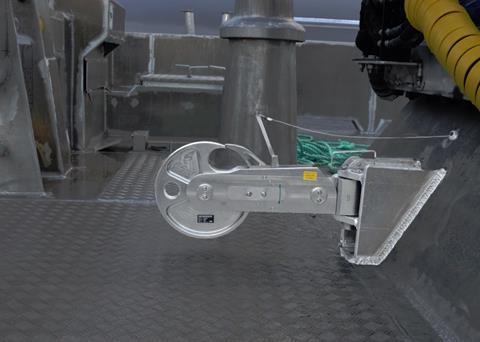 Operators of small to medium-sized vessels that are regularly used for towing, are expected to find the new Henriksen products of considerable interest. Visitors to stand PY 145 will be able to see the first hooks to become available for use by working vessels to which they are introducing a level of safety that has, until now, only been available for tugs and much larger, dedicated towing vessels.
The new Henriksen towing hook provides a quick release facility that can be activated by any crew member in an emergency. If circumstances change unexpectedly during a tow and put the vessel and its crew at risk, the tow line can be released in a single action by crew on deck or in the wheelhouse. If this occurs, the disc design of the hook enables it to absorb the sudden release energy from the tow line without the hook and its mounting being dangerously stressed.
The new hooks are available in three versions for towing loads up to two-and-a-half, five and ten tonnes. Each model is certified as being capable of accepting loads up to six times greater than its designated strength which makes it a reassuring asset for any working vessel routinely engaged in towing.
A special demonstration model has been built that will enable Henriksen stand visitors to activate its release mechanism under load. It will also enable them to assess its performance and practicality when compared with the use of conventional cleats or bollards.
Visit H Henriksen Mek Verksted AS at Seawork International 2017 on stand PY145.
By Jake Frith