A number of towing reports are worthy of mention, four highlighted here including three involving Emergency Towing Vessels.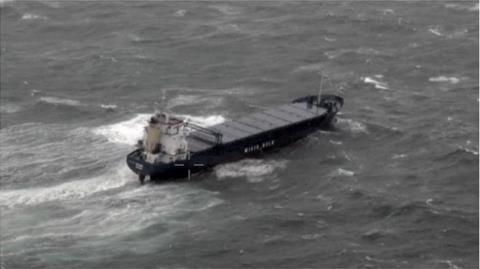 France's CROSS Gris-Nez contacted the bulk carrier Sea Hermes after it reduced speed while 6nm north of Cap Gris-Nez on the French side of the Traffic Separation Scheme. The vessel, bound for Gdynia was loaded with 49,000t of soya bean meal and reported they were experiencing machinery problems in strong winds and rough seas.
Attempts at repairs were unsuccessful and the French ETV Abeille Languedoc was deployed along with a French Navy helicopter which transferred a marine pilot and one of the ETV's crew. Around six hours after the initial alert the drifting vessel entered UK waters and following advice from UK Coastguard Abeille Languedoc took it in tow with the destination Dungeness Bay.
Remaining in the UK, a multi-vessel response followed when the fish-farm vessel Hydro Pioneer with five crew on board suffered engine failure in adverse weather off the west coast of Isle of Lewis. Another fish-farm vessel towed Hydro Pioneer to relative shelter on the east side of Lewis.
Stornoway's RNLI lifeboat stood by while the ETV Ievoli Black which was also tasked took the vessel in tow to Stornoway harbour where it was berthed with assistance from a local workboat.
Ievoli Black was called into action again when the general cargo vessel Kaami broadcast a Mayday distress message after running aground on a reef north-west of the Isle of Skye. Portree RNLI lifeboat and the Northern Lighthouse Board vessel Pharos also responded, the eight crew members of Kaami being airlifted to safety by a coastguard rescue helicopter.
Resolve Marine Group was reported to have signed a LOF and at the time of writing vessels including Forth Warrior, Forth Guardsman and the tug Multratug 3 were in attendance.
Turning to comparatively routine operations, SAAM Towage Canada's tugs SST Salish and Smit Hyack have completed the 26-hour, 80-mile tow of BC Ferries first two hybrid ferries from Ogden Point to Point Hope Maritime, SAAM Towage Canada CEO Alexander Bikkers commenting: "… the expertise of the company's personnel is evident in this type of operation, which requires balancing the strength of the tug boats with the precision necessary to adequately protect the ships." Just one example of the hundreds of routine towages that are safely completed globally daily.
By Peter Barker