Spanish manufacturer Ibercisa has delivered the first of two towing winches AHT type model MR-E/930/2/2500-89, which will be installed on the AHT Bylgia of Hereema Marine Contractors from the Netherlands.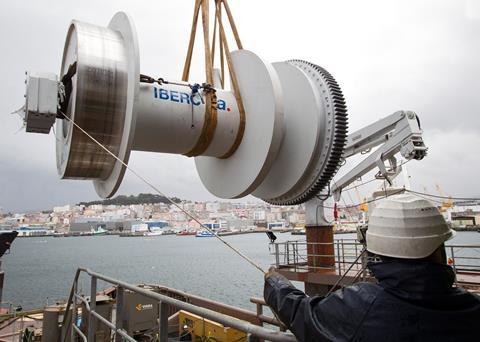 These vessels are being built by the Astilleros Armón shipyard in Vigo.
The electrically driven winch is the first of its kind to be given this type of drive, which has represented a challenging technological feat for Vigo based Ibercisa.
The Bylgiawas designed around the dimensions of the winch, developed by Ibercisa to reach a final weight of 280 tons. Given its size, the drums, weighing 90 tonnes each, had to be installed on the boat whilst afloat in the repair docks at Bouzas, which necessitated that the boat be taken to the docks whilst still under construction.
The winch has two waterfall drums, each with a capacity of 2,500m of 86.9mm wire. The electronic engines are of permanent magnet type with elevated par at low revolutions. Giving 350 tonnes per 10 metres/minute on the first layer with the same pull, speed increases to 50 metres/minute when offload is against the dynamic brake. The static brake capacity is 600 tonnes on each drum, divided between two differential band brakes.
Each engine works with a gearbox joined together by a declutching transmission, allowing drums to work simultaneously, reducing pull by half and giving greater versatility.
Wire stowage is carried out by four rollers working independently and therefore permitting their movement to be in time with the cable guide, or moving in opposite directions to allow shackles and joints to pass freely. Each roller is driven by chains geared on wildcats by two electric motors with epicicloidal gears.
The Bylgiais the first of two anchor vessels for HMC under construction at the Armón Shipyard. The second winch will be installed on board the vessel Kolga.