Dutch towage contractor BMS Seatowage BV have a new addition to their fleet in the form of the hybrid tug conversion 'Sil-Jeske-B' built for Koedood BV by Shipyard Kooiman.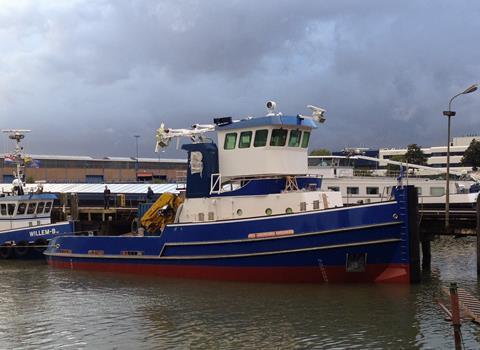 Koedood supplied both the main and auxiliary engines and the electric motor/generator for the tug which has a bollard pull of 24 tons. Sil-Jeske-B has been completely rebuilt, including lengthening and widening, from an existing conventionally powered tug.
In addition to the traditional mechanical diesel propulsion the tug is also equipped with electric motors driving the propellers. A combined diesel direct plus electric propulsion provides the maximum bollard pull for the vessel.
Operational safety for towage operations at LNG terminals is of paramount importance and Kotug Brunei recently celebrated a quality and safety milestone with their full alignment with Level 2 of the Offshore Vessel Management Self-Assessment (OVMSA) standard completing 365 days of safe and reliable performance.
Kotug operate three Rotortugs in Brunei with a 100% local management team supported by its integrated company management system aimed at increasing operational output, HSE performance and other activities both on board and ashore. Brunei LNG along with Shell Petroleum work with oil and gas industry standard guidelines and during an annual business performance review Kotug Brunei received "great compliments for its performance" attaining Level 2 of the OVMSA standard.
In the first of two vessel acquisitions to report in this month's TOWLINES, Tsavliris Salvage have announced the addition of the Montgat now renamed Hermes, a popular name historically in the tug world. The multi-purpose deep sea tug was built by Astilleros Zamakona SA of Spain in 1993.
Hermes is a single-screw (controllable-pitch) vessel of 2,725bhp delivering a bollard pull of 41 tons. A private blessing ceremony with family and staff welcomed the new vessel last month: it will add to Tsavliris' global capabilities and operate out of Patras salvage station.
The second transfer of ownership brings us back to the UK where Portland Port and Harbour Authority have welcomed the arrival of the newest member of their harbour towage fleet in the form of the former SMS Towage tug Englishman now renamed Rufus Castle. The 28m long, 50tbp tug is powered by two Yanmar main engines.
The new addition has an interesting history. Built in China by Beng Zu Shen Zhou in 2006 for Pacific Ocean Engineering it appeared on the river Humber in July the same year towing two ex-Hong Kong Salvage and Towage tugs from the Far East for SMS; Tsing Yi (renamed Irishman) and the Tolo (renamed Yeoman).
The new addition for Portland Port has two fifi monitors delivering 1,200m3/hr in total and replaces an earlier vessel of the same name a former tug with RMAS origins now sailing as the Triumph-R for Tortola Barge Services of British Virgin islands.
By Peter Barker