Russia's Nevsky Shipyard has started sea trials with its latest arctic rescue tug Piltun.
The shallow-draught multipurpose tug, part of the MPSV12 project is fourth in a series of similar vessels built for Federal Agency of Maritime and River Transport of the Russian Federation. With ice class Arc5 notation, Piltun is equipped for emergency towing and salvage duties including firefighting, personnel evacuation and transportation of general and liquid cargoes along with ship repair work to a depth of 80m. Its multipurpose features include underwater research with work class ROV capabilities up to a depth of 3,000m.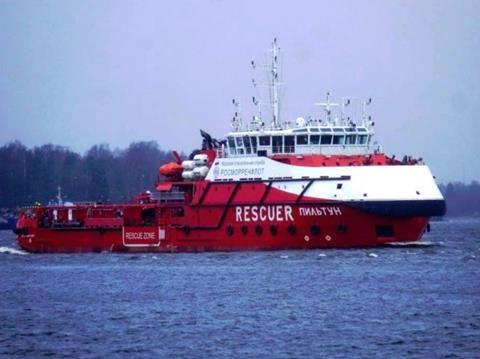 US-based T&T Salvage has removed the last remaining section of the vehicle carrier Golden Ray which capsized in St Simons Sound near the port of Brunswick in September 2019.
T&T Salvage was appointed to remove the wreck and started work in January 2020 after Donjon-Smit provided an initial response. A unified command was established involving USCG and other stakeholders and T&T Salvage mobilised the Versabar heavy lift vessel VB-10,000 for the task which involved cutting the vessel which was lying on its side into sections and lifting onto barges for transfer to shore and disposal. The complex operation has also involved extensive measures to mitigate pollution from the more than 4,000 vehicles on board
Turkish tug operator and shipbuilder Med Marine has signed a memorandum of understanding with Emirates classification society TASNEEF.
The agreement signed recently in Abu Dhabi between Med Marine chairman Recai Hakan Şen and TASNEEF's general manager Waleed Altamimi aims to create prospective collaborations in the maritime and shipbuilding industries including to "create value and business opportunities for the mutual benefits and interests of both companies."
The towing industry, particularly the tug building sector is mourning the loss of Captain Altay Altuğ, founder of Turkey's Uzmar Shipyard and described as the "doyen of Turkish Maritime."
Graduating from today's Istanbul Technical University in 1952 Captain Altay Altuğ had a career at sea on passenger and cargo ships until 1961 before becoming a harbour pilot in İzmir port rising to the role of İzmir Port Chief Pilot and later president of Uzmar Shipyard. During his pilotage career he established the first modern pilot station in İzmir on a floating pontoon with VHF radio communication facilities. In the meantime, he played a significant role in establishing pilotage services at İzmir Aliağa Refinery.