With the Royal Netherlands Navy receiving four new Damen hybrid tugs it is reported the third of four tugs they replace has been sold to Canadian interests.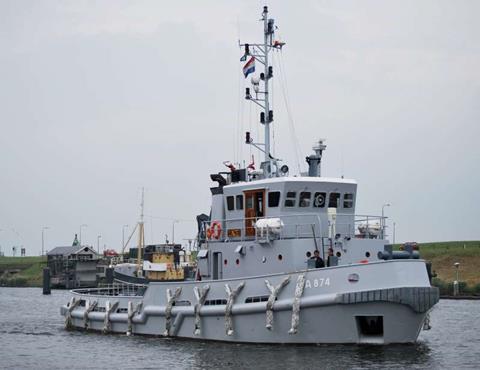 Speculation surrounded the fate of the four late 1980s-built harbour tugs, all maintained to a high standard including at one time the suggestion they would all be heading to a UK owner. They are now being sold separately and the sale of the Regge has been concluded. The new owner is reported as Harbour Development Inc of Canada with three of the four having now passed on to new owners.
MTU has gained IMO Tier III certification for its Series 4000 marine engine with the tug sector being a target market for its latest generation engine. The Series 4000 engine is equipped with an SCR system and meets IMO regulations to the satisfaction of classification societies: ABS, BV, DNVGL, KR, NK, LR and RS. The range extends from 2,160kW to 3,900kW and is available in 12, 16 and 20-cylinder versions. The tug and workboat version (meeting IMO Tier III and EPA Tier 4 requirements) is being offered in the 1,119kW to 3,220kW range.
Shetland Islands Council (SIC) has taken the Damen ASD Tug 3212 Multratug 30 on charter to operate at the port of Sullom Voe. This follows the earlier news that SIC had purchased the sister-vessel Multratug 29 from its Dutch owner following a six-month period on charter. They replace the Shalder and Tirrick both reported sold to Greek interests and will hopefully bring to a close the long-running saga that saw two Spanish-built tugs Solan and Bonxie dogged with problems and eventually sold to Italian owners.
Boskalis has presented its annual report including the reporting of good progress with the organisational integration of its Towage & Salvage division. Kotug Smit Towage is the development that has been making news in Europe, but Saam Smit Towage also started operating in two new ports in Brazil and commissioned new tugs in Canada and Brazil. Smit Lamnalco successfully extended a number of terminal service contracts.
Revenue within Towage & Salvage declined as a consequence of deconsolidation of its European harbour towage activities per the second quarter of 2016 with a 'very busy second half of the year' reported for Salvage.