Tsavliris Salvage, known for its success with Lloyd's Open Form salvage operations has strengthened its fleet with the acquisition of a new US-built tug.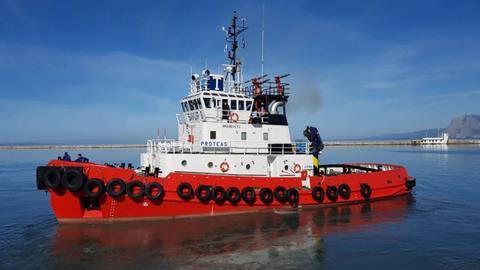 Built in 1989 by Moss Point Marine Inc as Armman for the Kingdom of Jordan the 3,200bhp, 45tbp, fifi1 equipped tug has been renamed Proteas and will operate for Tsavliris out of Patras, Greece – mainly in the Patraikos/Corinthiakos Gulf. A private blessing ceremony in front of family and staff was held to welcome this new addition to the Tsavliris fleet.
Østensjø Rederi has secured an additional one-year option with A/S Shell Norway for terminal towage services at the Nyhamna, Aukra gas plant, on the Norwegian west coast.
The option extends what has been a 12-year working arrangement at Shell Nyhamna for Østensjø where services provided include crewing and operation of an escort tug, a harbour tug and two line-handling boats along with all onshore activities on the jetty including mooring and gangway operations and the provision of a loading master.
Gigilinis Shipping Group has reported the successful conclusion of what it describes as 'another demanding tow' involving its tug S/T Europe.
The voyage involved the towing of an unnamed cargo vessel from the port of Casablanca, Morocco to Tuzla, Turkey. The voyage started in February in the middle of the winter season with random spells of bad weather lasting for most of the voyage. Despite the bad weather conditions, the Gigilinis crew successfully and safely delivered the tow to its owners just over two weeks after setting out. Gigilinis offer a range of services from harbour towage to offshore, ocean towage services and emergency response. It also operates a shipping agency service in the Greek port of Kavala.
Schottel's Singapore subsidiary has relocated to new and spacious facilities next to the new shipyard centre in south west Singapore.
The new facilities will enable Schottel to service and overhaul Rudderpropellers up to around 3,500kW with the help of a new workshop with an 80t lifting capacity, two 40t cranes capable of lifting loads up to nine metres in height and also with a crane with a lifting capacity of 6.3t.
Part of the new building is a warehouse carrying all common Schottel spare parts, a sales area of around 1,200m2 and offices spanning 800m2.
By Peter Barker