Muller Dordrecht is currently engaged in the transportation of windfarm components as the towage sector continues to benefit from opportunities in the offshore wind industry.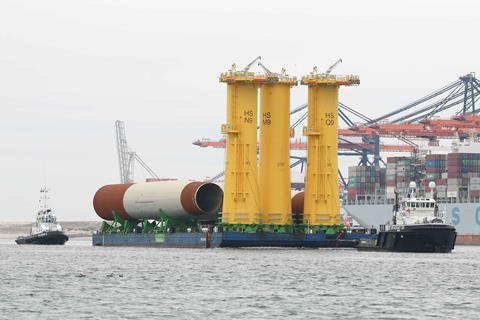 Its 70tbp seagoing tug En Avant 20 (assisted during sailing by 31tbp En Avant 9) was pictured recently leaving Sif Group's assembly plant at Rotterdam's Maasvlakte 2 bound for Eemshaven. The monopile foundations and transition pieces are eventually destined for the Hohe See offshore windfarm in the North Sea.
Muller's fleet currently includes six seagoing tugs between 21 and 110tbp, three harbour tugs from 4 to 17.5tbp and three pushboats along with an extensive range of non-propelled cargo barges and associated equipment.
Kotug Smit Towage chose its annual 'Maatjes-party' (herring with friends) to perform the naming ceremony of two of its newly-built Damen tugs.
The tugs involved were the Rotterdam and Beagle both currently operating in Rotterdam, the former named by Ms Janet van Bergen, partner of Captain Tjitte de Groot, president of the Regional Pilots' Corporation Rotterdam-Rijnmond. Beagle meanwhile was named by Ms Renee Naaktgeboren who in 2017 received the Young Port Talent award in Rotterdam.
Five Z-Tech tugs of Suderman and Young Towing Company have successfully berthed the largest ever ship to enter the Texas City ship channel in what was seen as a test of future VLCC oil shipments.
The two Z-Tech 30-75 tugs Thor and Lamar and three Z-Tech 24-60 tugs Neptune, Oceanus and Poseidon all operated by G&H Towing of Galveston, Texas supplied a combined bollard pull of 330 tonnes to berth the VLCC Nave Quasar at the Enterprise Products Partners terminal in Texas City. The Z-Tech tug design is a product of Robert Allan Ltd whose relationship with G&H Towing dates back to 2004 with Thor and Lamar being the first Z-Tech 30-75s in the US.
Technology group Wärtsilä is to design and equip one of PSA Marine's newest harbour tugs in another example of the towing industry's preparedness for further development of LNG-powered tugs.
The Package involves both ship design and integrated propulsion for the 28m long, 50tbp harbour tug under construction at PaxOcean Shipyard and includes two Wärtsilä 20DF dual-fuel engines running primarily on LNG fuel together with its LNGPac fuel storage and supply system as well as steerable thrusters and the Wärtsilä ProTouch control system.