Multraship has chosen the annual Rotterdam World Harbour Days event to christen its two innovative Carrousel RAVE tugs 'Multratug 32' and 'Multratug 33'.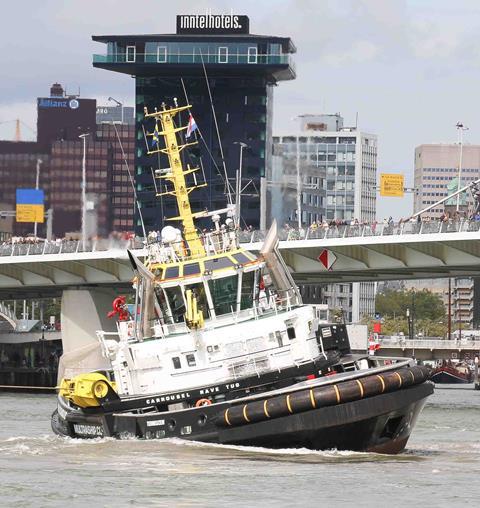 Christened by Mrs Muller-Ribbens and The Netherlands Minister of Infrastructure and Water Management, the Honourable Cora van Nieuwenhuizen, Multratug 32 and 33 demonstrated their unique method of operation in front of thousands of visitors over the three-day World Harbour Days event including a 360' ballet connected together via their ring-mounted winches. Both tugs are now operating in Rotterdam.
Kotug Seabulk Maritime Services (KSM) has expanded its fleet in Freeport Grand Bahama with addition of two new vessels joining the existing KSM fleet of four tugs and a bunker barge.
The 14m line-handler Capt Leroy and 15m catamaran launch KSM Speedy will enable KSM to broaden its towage and other services at Buckeye Bahamas Hub Terminal, the largest petroleum products terminal in the Western Hemisphere.
Ard-Jan Kooren, KSM director said: "This acquisition further validates KSM's commitment to BBH to constantly monitor how we can increase the efficiency and safety of our operations and improve the turnaround times of vessels in ports and at the BBH terminal offshore."
Aurelius Finance Company is providing financing to support the buy-out of global emergency management company Ardent.
The arrangement will see Ardent's senior management team acquire a shareholding in the company, established in 2015 through the merger of Svitzer Salvage and Titan Salvage. Financial terms have not been revealed but following the deal Ardent will have expanded financial resources to help develop its position further. The company will continue to cooperate with Svitzer and Crowley Maritime Corporation on unchanged terms.
The work of Robert G. (Rob) Allan has been deservedly recognised with presentation of the Council of Marine Carriers Legacy Award at the 23rd BC Tugboat Conference in Victoria BC.
The award is made every two years to a recipient who has made a significant, positive and lasting contribution to the British Columbia marine towing industry, Mr Allen easily meets the criteria with his long involvement with tug designer Robert Allan Ltd. In 2008 Rob transferred ownership of the company to a team of senior employees and while now retired from full-time duty is a regular and authoritative speaker at technical conferences in a new role described as "ambassador at large".
By Peter Barker