Albwardy Damen has been presented with Shipyard of the Year Award at a ceremony at the 16th Seatrade Maritime Awards Middle East.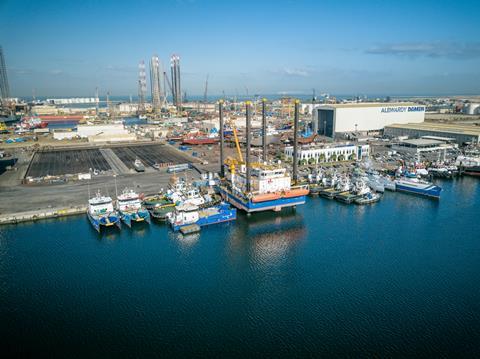 Mentioned regularly in Tugs & Towing, Albwardy Damen is an important provider of shiprepair services in the region, it also builds vessels however including tugs with eight such deliveries recorded in 2018.
The company is a joint venture between Dubai's Albwardy Investment and Damen Shipyards Group and has had a 40-year presence in the UAE with facilities in Dubai, Fujairah and Sharjah along with Sohar and Salalah in Oman.
Propulsion systems manufacturer Schottel has been awarded a contract to supply Rudderpropellers for three new tugs under construction in Singapore for Svitzer.
ASL Shipyard is building the two tractors and one ASD tug, to be deployed by Svitzer providing towage and emergency response services at Mid West Ports Authority, Geraldton, Western Australia.
The Robert Allan Ltd-designed vessels will each be driven by two Schottel Rudderpropellers type SRP 460 with 2.6m fixed-pitch propellers, each driven by a Caterpillar 3516 engine developing 2,240kW and providing a bollard pull of up to 70t.
Boskalis associate Smit Lamnalco is to deploy three new 95tbp tugs on the back of a ten-year terminal service contract in Mozambique.
The contract includes additional extension options and will cover integrated marine services including berthing and unberthing duties for Coral FLNG at the Mozambique Floating Natural Gas terminal, the first offshore LNG development for Mozambique. A new offshore support vessel will be utilised to provide logistical and marine services with the contract that commences early in 2022 and is valued at USD 200m for Smit Lamnalco.
Svitzer has announced that Arjen Van Dijk has been appointed as the new CCO for Svitzer Americas.
Forty three-year old Mr Van Dijk will bring his extensive knowledge and insight to Svitzer from over 15 years' experience in global shipping and transportation. He speaks Spanish and has lived and worked in both Argentina and Colombia and various other Latin American countries.
Marc Niederer, MD Svitzer Americas sees the appointment as an opportunity to "step up the game" commenting that with his global profile, regional experience and innovative mindset, Arjen Van Dijk will be a main driver behind its strategy to leverage its strong capabilities across a quite diverse region.
By Peter Barker