Finnish tug operator Alfons Håkans has bareboat chartered two ASD harbour tugs to strengthen its towing capacity in Estonia.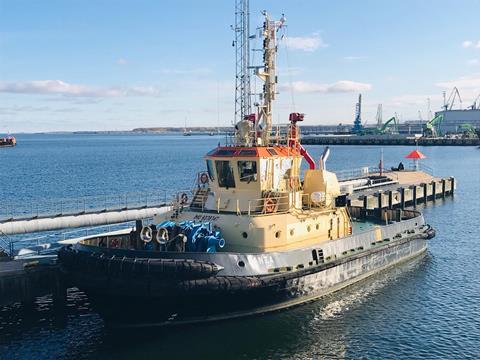 Alfons Håkans started operations in Finland in 1945, expanding into Estonia in 2004 and later in Latvia via PKL Flote, part of the Håkans group but it is from the fleet of Freeport of Riga Authority subsidiary RB Flote that Håkans has chartered the tugs Santa and Stella. Built consecutively in 2008 by Riga Shipyard the ice-classed 34m long pair each provide 60tbp from Caterpillar main engines and Rolls-Royce thrusters
Royal Boskalis Westminster NV has completed the sale of its equity stake in Saam Smit Towage to SAAM SA for USD200m. The intended sale was announced earlier in 2019 and the cash for its equity stake results in a pre-tax book gain of slightly more than EURO40m for Boskalis. The joint venture between Boskalis and SAAM was formed in 2014 which at the time covered towage activities in Brazil, Panama, Mexico and Canada, expanding its overall presence. Subsequent discussions however concluded that outright sale of Boskalis' shares to SAAM was the best solution to a more competitive market environment.
Westug has implemented its AI-assisted vessel dispatching tool OptiPort in Port Hedland, Western Australia. OptiPort is described as a revolutionary way of dispatching tugs, combining large amounts of AIS data with relevant port information systems resulting in optimal vessel dispatching schedules responding in real time to the slightest change in data. The system suggests which tugs to use and the speed they should travel to ensure the most efficient option. Westug operates services on behalf of Kotug for Fortescue Metals Group at Port Hedland, the world's largest dry bulk export port.
Kotug International BV and Horizon Maritime Services have formed the joint venture company KOTUG Canada offering terminal and harbour towage services across the country. The move is another step in Kotug's international expansion plans and brings together its experience in marine towing operations with Horizon Maritime's local knowledge and expertise with the aim of providing Canadian customers with a "top-notch level of towage services". Horizon Maritime is a global marine services provider offering services, vessels, crews, tugs, barges, workboats, vessel management and logistics services. As well as having locations across Canada, Horizon also has an office in Norway.