DynaRep Shipping Consultants has announced expansion plans involving collaborations with Fairplay Towage Group Germany and Marina Offshore Singapore.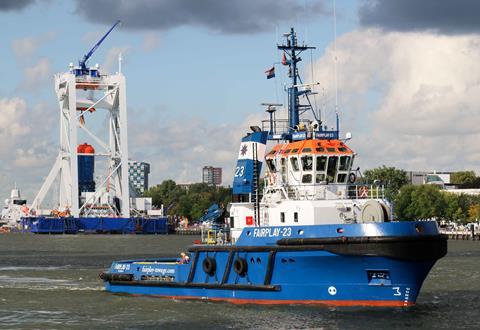 Both companies offer port towage services in their respective countries and have decided to invest in the Greek and Cypriot shipping markets via the collaboration which is aimed at strengthening their position. This includes through the level of services offered as well as pricing via DynaRep's services to the shipping community offering representation services to a wide agency and port towage company network.
UK-based Marine Software Ltd has supplied its MPMWin – Marine Planned Maintenance Lite software package to Targe Towing's newbuild tug Peterel.
Peterel is a RAL RAmparts 2400SX ASD tug built by Sanmar Shipyards, one of the many Boğaçay-class tugs to be delivered and follows a similar successful software installation in 2019 on Targe Towing's tug Kittiwake another RAmparts 2400SX design from Sanmar. The same software package is planned for Queensferry another tug to the same design due for delivery this year.
Ramsgate-based Marine Software Ltd state "simplicity is the key to success" and MPMWin Lite is one of three PM products on offer and includes an upgrade path to the standard DNV-GL Type Approved version if required without loss of data.
Right to reply
Concerning the article "ASD TUG DESIGNED BY NED-PROJECT" that appeared on page 58 of Maritime Journal in December 2019, a spokesperson for the tug's builder REMONTOWA SHIPBUILDING S.A has made the following statement to this magazine:
"NED-Project was responsible for the project's technical documentation of this tugboat only at the initial stage. Due to serious omissions and errors committed by NED-Project, Remontowa Shipbuilding S.A. was forced to use the resources of another design office and independent experts to finally meet the requirements of the Armament Inspectorate of the Polish Navy.
In clarification, NED-Project was responsible for the project's technical documentation only at the initial stage, due to serious omissions and errors, cooperation with NED-Project was terminated. Presently, final technical and class documentation is being made by one of the largest marine design office in Europe – REMONTOWA Marine Design & Consulting, a member of Remontowa Holding."