Albwardy Damen has increased its presence in Western Asia with the opening of a new repair workshop in Sohar, Oman on the south east coast of the Arabian Peninsula.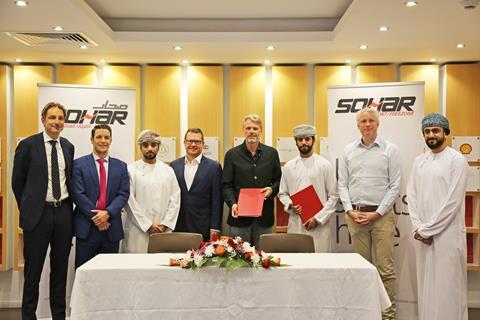 The move follows agreement between Albwardy Damen and Sohar Port involving installation of workshop facilities at a service jetty in the port becoming the fourth operational location in the region for Albwardy Damen joining facilities in Sharjah, Dubai and Fujairah.
While Albwardy Damen provide repair services for a variety of ship types its connection to the Damen network itself including the construction of tugs and workboats enhances its ability to provide support for Damen-built vessels in the region.
After more than three years of operation in Alberta, Ocean Group is extending its services to the Canadian west coast. The move follows the awarding of several contracts in British Columbia covering various sectors of its activities including for Ocean BC Towing Inc a related Ocean Group company. In preparation, Ocean Group has acquired two new 28m tugs from Damen Vietnam, to be supported by another Ocean Group tug Ocean Stevns, a vessel originally built in Canada for Nordane Shipping of Denmark and a regular sight in European waters for around ten years, including for the offshore wind industry.
Saam Towage is preparing for launch of a new service in El Salvador, a new venture for the company that operates in nine countries at over 70 ports throughout the Americas. Saam will provide services for the Energía del Pacífico (EDP) project at Port of Acajutla in a long-term agreement which will see the allocation of three tugs, two of which will be newbuilds to support a 378MW LNG power plant operation including a floating storage and regasification platform.
PSA Marine (Pte) Ltd has completed the 100% acquisition of Tramarsa Flota S.A. and its subsidiaries in Peru from Grupo Romero. Tramarsa Flota provides integrated port services including towing in 10 major ports along the Peruvian coastline, its 45-vessel fleet includes 17 tugs. PSA Marine state the two organisations are "united by the common business language of excellence in all that we do" and while Singapore is the flagship operation for this global operator it also operates more than 70 tugs in Bangladesh, China, Hong Kong, India, Oman and Southeast Asia.
By Peter Barker