Hessle-based SMS Towage has reported the berthing of a vessel in Southampton, its first assignment in the port in which it is now licensed to work.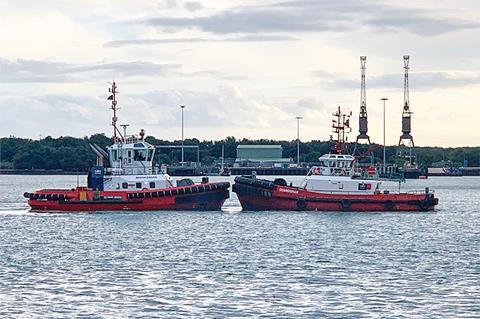 The 69tbp Damen ASD 2411 tug Marxman crewed by Lee Shaw and Paul May assisted by the 40tbp former Hong Kong Salvage & Towage tug Guardsman crewed by Lee Whittaker and Kevin Hooper successfully berthed the 228m LOA, 82,449dwt bulker Seaduty in the port assisted on this occasion by a third tug supplied by another independent family firm Itchen Marine.
MacGregor, part of Cargotec has secured an order to provide deck equipment to two T-ATS class US naval salvage and rescue ships to be built at Gulf Island Shipyards LLC.
The order, deliveries of which are due to start in Q4 2021 and continue through to Q1 2022 include for each vessel: towing winch, traction winch, shark jaws, towing pins/pop-up pins, stern roller, offshore crane and other accessories. The vessels will be deployed worldwide for naval service including ocean towing, salvage operation support and submarine rescue missions.
Piraeus-based Tsavliris Salvage has become an officially licensed member of Marine Emergency Mutual Aid Centre (MEMAC), a marine environmental intergovernmental organisation based in Bahrain.
MEMAC's role is to ensure the environmental protection of the sea areas of eight member states: Bahrain, Iran, Iraq, Kuwait, Oman, Qatar, Saudi Arabia and the UAE. Tsavliris' activities feature elsewhere in this column and the company comments: 'It strengthens our position in this highly regulated area and will utilise our significant experience through a wide range of services related to marine salvage and towage'.
Vancouver BC based Robert Allan Ltd (RAL) is featured regularly in MJ, notably with tug design and recently celebrated the milestone of its 90th birthday as naval architects.
The company has had 12 years of employee ownership and management following three generations of family ownership, the current workforce numbering around 90 persons originating from about 30 countries and speaking over 21 languages. Almost 1,000 vessels have been built to RAL designs and are currently in operation internationally.
Robert G. (Rob) Allan is executive chairman of RAL and something of an ambassador at large in particular bringing his experience and knowledge to events such as ITS and Tugnology organised by The ABR Co. Ltd. All at MJ wish RAL a happy birthday!