Delfzijl-based Royal Wagenborg has reported the safe execution of a loaded barge tow within the Netherlands.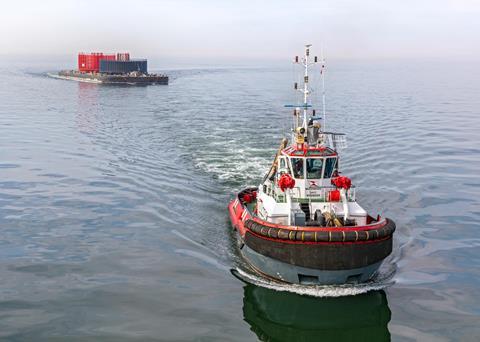 Coastal tows are bread-and-butter work for smaller towage companies, so worth considering briefly an example of what is considered routine. Wagenborg's 60tbp ASD tug Waterstraat recently completed towage of the barge CC Atlantique (Coastal Carriers NV/Acta Marine BV) from Rotterdam to Eemshaven, loaded with two cable reels for offshore windfarm projects. Wagenborg's fleet includes four ASD tugs, four barges up to 20,170dwt and the 300t lift floating sheerlegs Triton.
Another often overlooked routine is re-engining of tugs giving them a new lease of life, good for often decades more, two recent such projects for Cummins take us to the Netherlands and the US.
Van Wijngaarden Marine Services' 21tbp Gouwestroom, built in 1998 by Breejen & Zoon recently received a pair of new Cummins QSK19 main engines providing in total 1,500hp. A similar re-engining for a tug just a year older has taken place in the US where Seattle-based Boyer Towing's Gretchen H has had its three main engines replaced by Cummins QSK19 models rated at 750hp each, the refit carried out at Boyer's own yard.
The keel-laying ceremony has been held for Ports of Auckland's fully-electric tug, mentioned elsewhere in this column, at Damen's Song Cam shipyard in Vietnam.
The ceremony was attended by New Zealand's ambassador to Vietnam Ms Wendy Matthews and Ms Elsbeth Akkerman, the ambassador of the Netherlands to Vietnam with Ports of Auckland representatives joining the ceremony remotely. In keeping with tradition, two New Zealand 20 cent pieces, representing the year 2020 were welded into the tug's keel, the placing of two coins allowing the obverse and reverse sides to be displayed featuring a portrait of Queen Elizabeth II and a Maori carving of Pukaki, a chief of the Ngãtİ Whakaue iwi tribe.
Volunteers with the Daniel Adamson Preservation Society are planning a return to sailings in 2021 for the preserved tug.
Despite the challenges and disappointments caused by Covid-19 the 'Danny' team are planning 'to break all records next year when the vessel returns to full steam on the River Weaver'. The defiant and committed ambitions of the volunteers will see a variety of general and themed cruises on offer from May through to October, details and booking information can be found at https://www.thedanny.co.uk/
By Peter Barker