First half year 2020 results indicate positive results for the towage and salvage division of Royal Boskalis Westminster NV.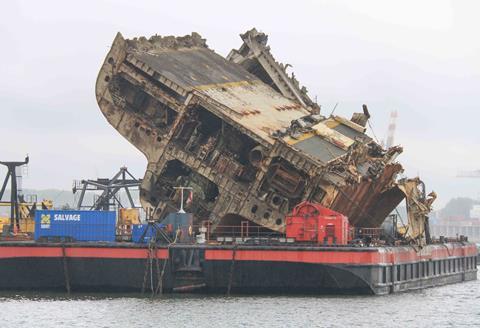 Revenue from the segment increased to €94.6M in the first half compared to €70.6M in H1 2019 equating to an EBITDA of €24.9M up from €22.8M in H1 2019, Boskalis describing salvage as having an 'exceptionally good' half year with important contributions from Brazil, Indonesia and the Middle East. These include settlements from projects executed in previous years and the figures include net results from JVs including Smit Lamnalco and Keppel Smit Towage, contributions down slightly from €7.5M in H1 2019 to €7.0M in H1 2020.
Turkey's Uzmar Shipyard has cut the first steel for the new RAL RAmparts 3000 tug for Port of Aarhus. Covid restrictions limited guests to representatives from just builder and client at the milestone event which will eventually see Hermes replace a tug of the same name. The new Hermes will be somewhat different to the tug it replaces offering 65tbp compared to 20tbp currently and from an ASD configuration compared with the single screw arrangement now. It also features a mechanical hybrid function, Uzmar stating the project will be 'a real revolution in the towage operations.'
Sanmar has celebrated the 150th project built with classification society ABS and the 100th tug delivered by ABS surveyor Mehmet Kantarçeken. The relationship between builder and class is important in tug building and this example features Advance Variable Drive. Mehmet Kantarçeken is happy and excited that his 100th project is the world's first hydromechanical hybrid tugboat stating: 'I believe that we will build a large number of many special, advanced technology and high quality tugboats with this harmony, as we have done with Sanmar so far.'
Svitzer A/S has a new COO in Ingrid Uppelschoten Snelderwaard who comes to the operation from her previous role as Global Head of Equipment and VP at Maersk. She will report to CEO Kasper Friis Nilaus who states: 'today innovative thinking and a digital mindset are critical to succeed as a global towage operator and this is precisely what Ingrid stands for.' Ms Snelderwaard holds a degree in economics and languages and a degree in business management from Nyenrode University in the Netherlands and has served in Maersk Line positions covering eastern central Europe and North America regions.
By Peter Barker