The port of Zeebrugge has welcomed two new tugs with arrival of VB Bolero and VB Rumba for Boluda Towage Europe.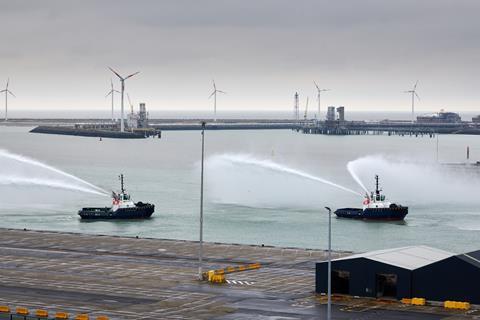 The Damen ASD 2813 vessels, examples of Damen's "next generation" tugs provide 85tbp via Tier III compliant engines equipped with Damen's NOX reduction system. They are part of Boluda's extended towage concession at Zeebrugge and the pair arrived recently from nearby Rotterdam where they were unloaded from the heavylift vessel Frauke after their delivery voyage from Damen's Song Cam Shipyard in Vietnam.
On the other side of the world, another port welcoming new arrivals is Port Geraldton in Western Australia in the tugs Svitzer North and Svitzer Abrolhos, the first two of a three vessel order.
The ASL Shipyard-built RAL RAstar 3000-W ASDs have a bollard pull of 71t and will enhance shiphandling provision in the port which handles over 400 ship visits per year, the main cargo being iron ore. They feature Caterpillar machinery and Schottel thrusters with an Ibercisa double-drum escort winch forward. The third vessel Svitzer Wilu is currently under construction and due to join its predecessors shortly.
As part of its strategic development, Norwegian contractor BOA Offshore has sold its subsidiary company Trond A. Kittelsen Shipping AS.
The sale includes the 36tbp tug Boa Sund, built in Germany in 1976 as Johanna and two flat-top barges Boabarge 49 and Boabarge 31 along with the rock barge Takboa, the sale also including part ownership of the 400t-lift floating crane Taklift. The assets are to be renamed and the announcement made no mention of the vessels' new owners.
Author Henk Hensen has found a new publisher for three of the industry's most authoritative and respected books after the previous publisher went into administration.
The towing world is poorer with demise of The ABR Company Ltd and its popular ITS and Tugnology conferences. It also published Mr Hensen's books Tug use in port, Bow Tug Operations and Tug Stability and having retrieved the print files and stock books from administrators has started with a new publisher in the Netherlands. The titles can be obtained from www.stc-publishing.nl email info@stc-publishing.nl with a restart discount of 20% offered until 1 April 2021. These informative guides can be rightly considered a must-read for both new and old members of the towing community.
By Peter Barker