The towing industry has had the first glimpse of what Damen describes as 'the world's first fully electric shiphandling tug' with launching of Ports of Auckland's 'Sparky'.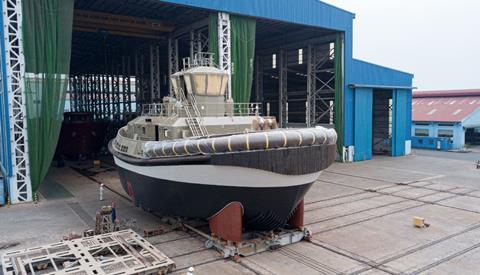 The zero-emissions tug, an 'E' variant of Damen's RSD Tug 2513 was launched at its Song Cam Shipyard in Vietnam, its 'innovative hardware' now being installed before delivery at the end of 2021. Sparky is part of Port of Auckland's goal of being a zero emissions organisation by 2040 with Damen selected to explore the feasibility of tug element of the project, influenced by the Dutch shipbuilder's experience with fully electric and hybrid vessels including dredgers and ferries.
Alaska's emergency towing provision has been enhanced with Resolve Marine's repositioning of its tug Makushin Bay from Dutch Harbor to Kodiak.
Resolve has assets including barges and cranes at Dutch Harbor and this redeployment increases service availability along Alaska's south coast including providing a 24/7 response for emergency intervention and salvage requirements. Makushin Bay is 130' long with an 8' draught and described as 'perfectly suited' for the Kodiak area including with shallow water capabilities able to access tight spaces while maintaining ocean towing and containment boom capabilities.
The steel-cutting ceremony for an interesting Robert Allan-designed tug has taken place at Rizhao Ganda Shipbuilding Heavy Industry in China.
The ASD 34/60 design is to the account of Rizhao Towing and Barge Company and custom designed for Chinese coastal waters, in particular providing shiphandling for vessels with low freeboard where the height of the tug's contact point with the assisted ship is of concern. The 34m tug will have a draught of 4.6m and offer a bollard pull of 50t (astern) and free running speed 13kn.
A forthcoming management change will see Dirk Wagner take over as managing director at Schottel Middle East (SME), assuming responsibilities of Andrew Bull who is pursuing other interests outside of Schottel.
Mr Wagner brings extensive experience and expertise to the company having joined SME when it was founded in 2011 including building up Schottel's after-sales activities and expanding its territories into 23 countries in the Middle East, Indian subcontinent and English-speaking Africa region. Mr Wagner, a German national also has a Higher National Diploma in mechanical engineering and takes up his role on 1 April 2021.
By Peter Barker