The size of modern azimuth thrusters is illustrated by Schottel's published images of one of two such for Turkey's Med Marine to power a Kenyan salvage tug.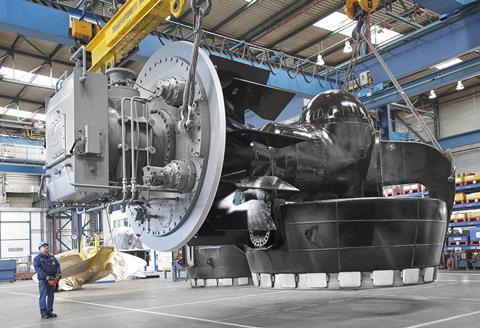 The SRP 710 RudderPropellers, manufactured at Wismar in Germany each have an input power of 3,700kW, input speed 1,000RPM and propeller diameters up to 3.6m and provide more than 120tbp for the RAstar 4200 (MED-A42120) tug under construction at Med Marine for Kenya Ports Authority. Schottel is also supplying a 250kW type STT 170 thruster for the vessel and it is stated it will be the largest tug on the East African coast of the Indian Ocean.
Svitzer has signed a 10-year time charter to provide towage and other vessel support services for a floating LNG storage and regasification unit (FRSU) in the Philippines.
The agreement is with FGEN LNG Corporation, a wholly-owned subsidiary of First Gen Corporation and includes provision of four new 75tbp tugs to assist the FRSU and attending LNG carriers. Additional services will include fire-fighting; pollution control; port and vessel security services; pilot and personnel transfer and fender management. We await with interest details of the new tugs that will service this contract.
Cummins is to power a 7.9m tug for the US Corps of Engineers designed to keep floating objects from entering the penstocks of a dam in Washington state.
Last month's MJ reported on five 7.62m long tugs for the US Navy so they don't quite surrender the record as smallest but this one is nonetheless worthy of mention. It will handle the 'bulkhead stoplog' at the Little Goose Dam with the road-transportable tug required to have a draught of just 1.5m. Twin Cummins engines will provide a respectable 602bhp in total turning four-bladed propellers.
Boluda Towage S.L. has appointed Mark van Dongen to the position of chief commercial officer for its towage division.
Mr van Dongen has over 25 years of experience in the maritime sector, 13 of which in the towage industry including leading international commercial teams covering business development in the towage market. Reporting to Boluda's HQ in Spain he will be responsible for further developing and implementing its global commercial and business development strategy in close cooperation with regional and global teams to include developing new business opportunities and projects on a global level.