As work to dismantle the wrecked bulk carrier 'Wakashio' off Mauritius is delayed by bad weather news arrives of a similar accident befalling a woodchip carrier off Japan.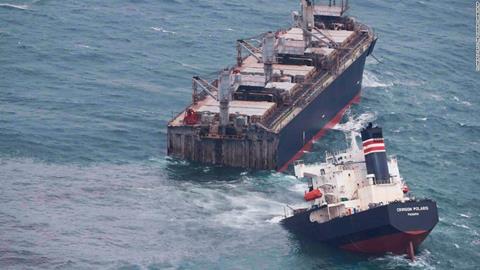 Both vessels broke in two forward of the accommodation following their stranding and in the latest incident teams have been sent by the charterer of the 49,549dwt Crimson Polaris to assist cleaning up oil that has escaped from the wreck. Fortunately, all 21 crewmembers were rescued but it is reported the vessel had around 1,550t of heavy oil and 130t of diesel on board.
Svitzer Americas has announced the appointment of a new managing director for the Dominican Republic and Caribbean.The appointment sees Matthias Reinarz replacing Dickson Rivas who is retiring after a long career with Svitzer. Mr Reinarz has 'broad management experience and a long and proven track record within both shipping and towage' and joins a company that has been present in the Dominican Republic and Caribbean islands since 2010 through a joint venture with Remolcadores Dominicanos operating 23 vessels servicing 10 operations. In the Americas region Svitzer employees 835 people and operates more than 80 vessels.
The International Salvage Union reports that work is continuing with revisions to its suite of well-regarded, standard wreck and marine services contracts.
The salvage industry's representative body is working with partners and independent legal advisers under the management of BIMCO on the revisions, the committee chaired by ISU President Richard Janssen assisted by vice-President Nicholas Sloane, secretary general Roger Evans and legal adviser Richard Gunn.
The towing community in the Netherlands and beyond is mourning the passing of Leendert Muller at the age of 88 years.Mr Muller had worked in the company bearing his name for more than 40 years, many of which in the post of CEO and while retiring in 1993 he always remained connected to the company as a valued and experienced advisor. Paying tribute to Mr Muller the company said: "Under his inspiring leadership the company expanded her business into heavy transport and became a towage provider in the ports of Rotterdam, Dordrecht and Moerdijk." Muller Dordrecht is a family-owned company established in 1918 but with roots going back to the late 1770s and operates a fleet of nine seagoing, harbour and pusher tugs along with 20 seagoing and inland barges.
By Peter Barker