Wirral UK-based Carmet Tug Company has a significant addition to its fleet in the Voith Schneider-propelled 'CT Oxton' previously owned by Forth Ports as the 'Oxcar'.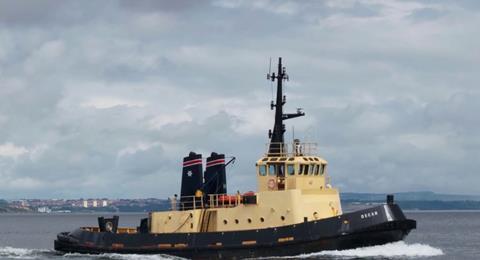 Carmet operates a fleet of tugs and workboats and is known for its iconic M.S.C.- prefixed tugs offering a diverse range of services around the Manchester Ship Canal area. The tug is described as having been maintained to a very high standard and a strong addition to Carmet's local fleet. The 30m long tug was built by Dunston (Hessle) Ltd in 1978 and provides a bollard pull of 30t and will be based at Eastham operating on the River Mersey and surrounding ports supporting local tug companies when extra tug capacity is required.
Vicente Boluda Ceballos, vice president of Boluda Corporacіón Maritima has been elected president of the Spanish Tugboat Association (ANARE).
Vicente Boluda Ceballos has served as vice president of ANARE since 2013 and takes over as president from Vicente Boluda Fos, CEO of Boluda who held the role for 27 years and has now been elected president of the Spanish Shipowners' Association. The new president of ANARE has a strong business background and also holds the title of vice president of European Tugowners' Association.
The fourth edition of the authoritative book Tug use in Port has been published, the latest in a series of towage guides published by Captain Henk Hensen. The IMO-recommended guide on tug operations was first published in 1997 and is known as the 'tug bible'. Written specifically for maritime professionals, particularly pilots, tug masters and training instructors it addresses present and future developments including escort towing and offshore terminals. It covers day-to-day practices including identifying operational risks and this together with other valuable titles in Captain Hensen's series can be ordered at www.stc-publishing.nl
Another industry appointment sees Mathias Jonasson taking over the role of cluster managing director for Scandinavia and Germany with towage operator Svitzer. Mr Jonasson has a 'robust background' in the oil and gas sector including a range of experience in operational, commercial and leadership positions and will report to Svitzer Europe's managing director Lise Demant. He previously worked for storage provider Vopak and Inter Terminals AB of Sweden who, under Mr Jonasson's leadership, underwent a 'deep cultural transformation into a working environment characterised by strong values and trust.'