Turkish shipbuilder Sanmar has reported successful trials for its VectRA 3000 tug 'Ares' for Tripmare S.p.A. along with first photos of the vessel under its own power.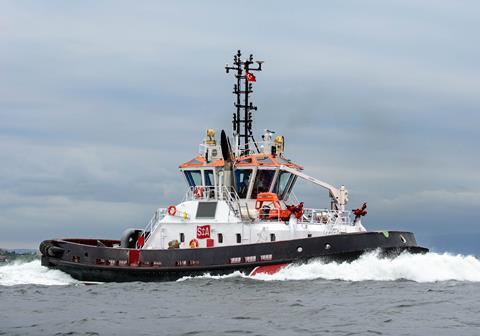 This column reported recently on progress with what is Sanmar's first Voith tractor tug. The project draws on its now well-established connection with Robert Allan Ltd resulting in this Sanmar exclusive, the design of which included specific operating requirements for the client including a tug of less than 500grt and incorporating high-speed engines.
Caterpillar main engines are connected to the Voith units via clutches and gearboxes rather than the conventional Voith Turbo coupling. This arrangement reduces transmission losses and enables the drives to be de-clutched with resultant reductions in fuel consumption.
Svitzer has held the naming ceremony for its new Damen ASD 3212 escort tug Svitzer Deben at Felixstowe. The tug was built at Damen's Vietnam facilities and has been getting to know the waters around its new home port since being delivered earlier this year.
Felixstowe is seeing an increasing number of visits from the latest generation of mega-sized container ships and Svitzer state that the new tug is 'a clear sign that we are investing in the future of Felixstowe'. The ceremony for the 80tbp tug was hosted by Marc Niederer, managing director Svitzer Europe and it was blessed by Sister Marian Davey with Alyson Cheng, wife of Clemence Cheng, CEO of Hutchinson Ports UK naming the tug.
British Columbia-based Ledcor Group has increased its fleet with the delivery of two BC-built tugs set to operate along British Columbia's Fraser River. Built by family-operated Bracewell Marine Group the two new additions will complement Ledcor's existing nine tug and 22 barge operation involving ship assist, barge and marine towing services and emergency marine services.
Herb L Ledcor and Lorne M Ledcor are each powered by two Caterpillar C18 Acert engines providing a total of 1,340hp. They are each 48ft long and Ledcor's crews were heavily involved in their design and interior layout and as such are particularly suited for operations on the Fraser River.
Following recent delivery of the newbuild Forth Warrior for Briggs Marine (see MJ April 2016) the Burntisland, Fife based marine contractor has strengthened its fleet with the addition of another workboat. Bearing the new name Forth Drummer the 25m long vessel previously operated as the Suffolk Spirit.
The acquisition makes Briggs Marine one of the largest workboat operators in the UK and features of Forth Drummer includes a deck crane and 24t bollard pull. Graham Gray, operations director of marine assets at Briggs Marine, said: "This investment reflects our commitment to continually improving and enhancing our vessel offering and it further consolidates our competitive position on the UK and European shipping market."
By Peter Barker