KOTUG SMIT Towage has celebrated commencement of its harbour towage activities in 11 European ports.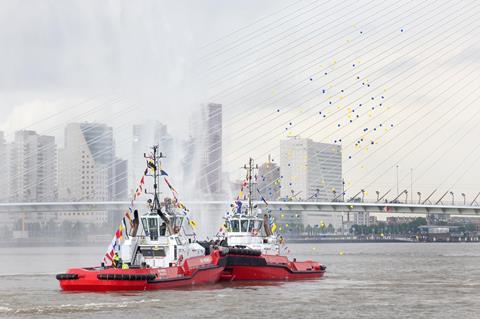 The various stages of the cooperation agreement have been reported here since early in 2015 and is now in full swing including visual changes to the liveries of both companies tugs.
The occasion was celebrated at the Cruise Terminal Rotterdam attended by around 600 clients, stakeholders and employees. After the welcome address and official launching guests were treated to a traditional 'tug ballet' by the SD Rebel and Smit Hudson to the backdrop of a fifi water display from Port of Rotterdam Authority's RPA 10.
The livery changes have so far included tugs from the Smit fleet gradually receiving a red hull similar to that of Kotug's vessels and a new re-styled funnel logo featuring both Kotug's familiar 'K' and also Smit's equally familiar chain-link motif.
Humber-based SMS Towage has taken delivery of a Sanmar built, Robert Allan designed ASD tug becoming the thirteenth tug in the UK's largest privately-owned towage company's fleet and the eleventh to bear the name Englishman.
The 3,500bhp tug was launched as Ulupinar XVII and spent a spell as the Baus with Buksér og Berging before moving to SMS. The first Englishman was a steam tug built in the UK in 1889, ending its days being operated by the Imperial Japanese Navy. Another tug to bear the name was sunk by the Luftwaffe off the Irish coast during the second world war.
Bugsier Reederei has taken delivery of its first Damen built tug in what is the German towage company's 150th anniversary year.
The Damen ASD 2411 Bugsier 22 was built at Damen's Sharjah facility and while Bugsier's activities have traditionally included offshore work in the oil and gas industry this latest addition will serve purely as a harbour tug in German ports. Bugsier 22 is powered by two Caterpillar 3516C diesels producing 4,100kW in total, driving twin Rolls-Royce US255-FP rudder-propellers in Kort nozzles and delivering a bollard pull of 70t minimum and speed 13 knots.
The South African Government's Operation Phakisa: Oceans Economy initiative has taken another step with the ceremonial launching of two more tugs for Transnet National Ports Authority (TNPA) South Africa.
Qunu and Cormorant are part of TNPA's R1.4bn contract with South African Shipyards Durban (the yard's largest ever single contract) which will see in total nine tugs built over three and a half years with handovers every three months until the final tug is delivered in early 2018. Qunu will operate at Port Elizabeth and Cormorant is to work at Port of Saldanha which handles the largest vessels visiting South African ports. The new fleet of tugs are 31m length with a bollard pull of 70t powered by Voith Schneider propulsion units.
By Peter Barker