Dutch Shipyard Padmos Stellandam BV has launched an interesting variant of the now well-established Rotortug design in hull no. 200, a 10 ton bollard pull trainer tug to be named 'RT Borkum'.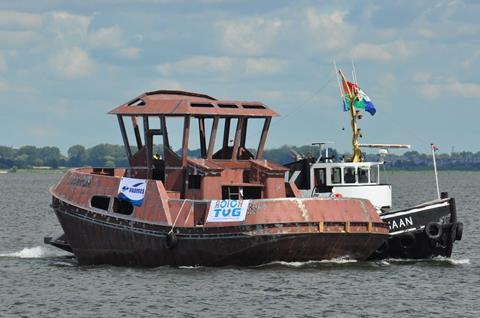 The tug is designed by Robert Allan Ltd and in turn a development of its BRAtt series ultra-compact ASD tug (featuring azimuthing thrusters). It is in effect a scaled down ship-handling tug intended as a cost-effective training vessel while at the same time having potential as a very capable line-handling or shipyard tug. This version will conform to the Rotortug principle with three azimuthing thrusters.
It is history repeating for Shipyard Padmos who co-designed and outfitted the first Rotortug class tug for Ton Kooren and is now entrusted with the trainer tug.
Boluda Towage and Salvage, Boluda Corporación Maritima's harbour and offshore towage and maritime rescue division has taken delivery of two new tugs, part of its fleet expansion and renewal plan.
VB Mastiff and VB Mustang have joined its port towage assistance fleet, each having a bollard pull of 52 tonnes from main engines developing 4,460bhp. They are 28.13m length overall on a beam of 9.8m and depth of 4.8m and are described as state-of-the-art and fitted out with fire-fighting capabilities along with oil pollution control systems.
An interesting towing mission has been reported from north America involving the transfer of the decommissioned US Navy Oliver Hazard Perry-class frigate USS Taylor (FFG-50) from Philadelphia Naval Shipyard to Deyton Shipyard in Charleston. The ship is to be converted in preparation for delivery to the Taiwanese government as part of the US foreign military sales programme.
The tow was entrusted to Crowley Maritime Corporation who deployed its Invader-class tug Monitor for the voyage. Crowley are no strangers to providing a portfolio of services both domestically and abroad to the US government, a service it has maintained for over 120 years. The tow was completed safely by Monitor with its eight-man crew under the command of Captain Steve Sears.
This issue of MJ has mentioned a couple of items of news which will no doubt be revisited and another one to add to the list is the recent launching of the first dual fuel tug to be built in Europe. The LNG and diesel fuel powered tug is being built by Gondan Shipyard in Figueras, Spain for Norwegian shipowner Østensjø Rederi.
The 40m long Robert Allan Ltd designed escort tug will provide tug services to Norwegian state-owned energy company Statoil at their terminal at Melkøya. It is designed to operate in temperatures of -20' and will be environmentally sustainable through its use of LNG as fuel in most operations. It is now being fitted out and due for delivery in 2017.
By Peter Barker