Following earlier news of fleet rationalisation plans, Royal Boskalis Westminster N.V. has announced an agreement with its Works Council concerning crewing arrangements on two of its five Fairmount tugs.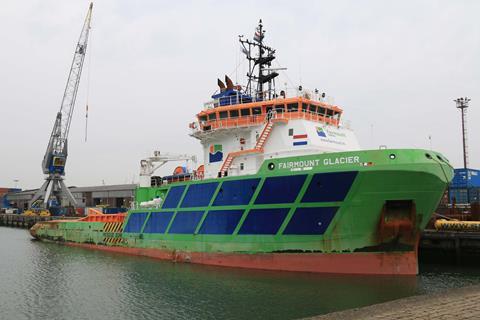 Boskalis had announced it was taking 24 vessels out of service over the next two years with the loss of around 650 jobs worldwide. Fourteen vessels were to come from its Offshore Energy division which includes the five Fairmount anchor-handling tugs.
There was concern among the workforce around plans for changing crewing arrangements on the Fairmount vessels and Boskalis has announced that part of the 'positive advice with the Works Council' is an agreement to continue crewing two of the five vessels for the time being with Dutch employees. A social plan has also been agreed in principle on workforce reduction involving attrition and redeployment where possible.
Amsterdam has welcomed a new addition to its port tug fleet with naming of the Svitzer Amstel. The 60tbp RAmparts 2400SX ASD tug was built in Turkey by Sanmar Shipyards.
Sanmar has a well-established relationship with Svitzer with 13 tugs either recently delivered or on order and the ceremony was attended by projects director Ali Gürün and marketing director Pinar Gürün Korkmaz on behalf of Sanmar as well as Svitzer's own invited guests. Svitzer Amstel was named by Dertje Meijer, former CEO of the Port of Amsterdam.
In another naming ceremony Transnet National Ports Authority (TNPA) has received the fourth in a series of ten tugs into service as part of its $100m tug building programme. The tug named Osprey will operate in the Port of Saldanha.
An important element for TNPA is maximising local involvement with the project and the tugs are being built by Durban-based Southern African Shipyards and are part of the South African Government's initiatives to unlock potential of the Ocean Economy. The 31m long tugs have a bollard pull of 70 tons and benefit from the manoeuvrability characteristics of Voith Schneider propulsion systems.
In the UK, Hull Daily Mail is reporting on calls locally for the history and achievements of the port's tugs to be celebrated with a museum dedicated to Hull's towage industry and the history of United Towing Company Ltd.
Michael Hussey, chairman of United Towing and Salvage Society recognises the area's rich maritime history and heritage is represented in the Hull Maritime Museum with particular focus on the fishing industry but feels the work of its tugs rarely feature. Mr Hussey served with United Towing in the 1970s and in the company's heyday it employed around 500 people and operated around 30 docking and river tugs and 12 ocean-going salvage tugs. United Towing Ltd was dissolved in 2014 with SMS Towage Ltd and Svitzer now major operators of towage and associated marine services in the River Humber area.
By Peter Barker