The next stage in the merger of the European harbour towage operations of Kotug and Smit has taken place with the opening of the new company's head office in Rotterdam.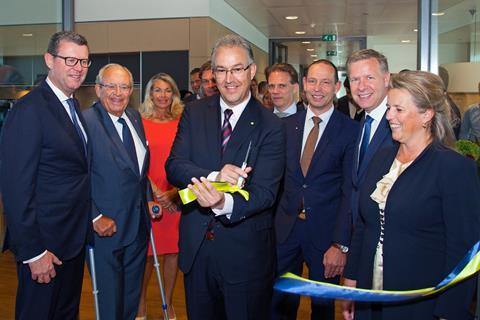 The venture, known as Kotug Smit Towage was established in April this year and its tugs are gradually being re-branded in their new livery including a revamped funnel logo and Smit's previously black hulls being painted red. The new office in the 'Las Palmas' office building on Wilhelminakade in Rotterdam was opened by mayor Aboutaleb who said: 'We are delighted that Kotug Smit Towage has chosen Rotterdam as its base, with its rich maritime history, this new company is willing to make connections to achieve its growth ambitions and combine forces for even better quality'.
Seattle-based Smith Berger Marine Inc has been selected by Edison Chouest Offshore to design and manufacture tow pin stern roller units for its five new escort tugs and four docking tugs currently on order. The tugs will provide tanker escort and spill-response services for Alyeska Pipeline Service Company.
The three individual tow pin units have capacities for 250 tons of line tension. The outfit also includes a hold down hook and 14" diameter stern roller. Smith Berger has also been selected to supply sharks jaws and towing pins for four new Stan Tug 3711s being built at Conrad Industries for Young Brothers Ltd.
In what will be an interesting story in the world of shiphandling towage in coming months, construction of the first Carrousel-RAVE tug has commenced at Theodor Buschmann Shipyard in Hamburg.
The design features the Robert Allan Ltd and Voith Turbo GmbH & Co KG developed RAVE propulsion with in-line thrusters along the centreline of the hull and the Novatug patented Carrousel Towing System designed to make towing and escorting operations inherently safer. The first hull block has now been lifted and turned with production activity increasing for the vessel which will eventually be part of the fleet of Terneuzen-based Multraship Towage & Salvage.
Eagle-eyed tug enthusiasts were hoping to catch sight recently of Nikolay Chiker, considered widely as one of the two most powerful salvage tugs in the world as it passed the Dover Strait escorting a flotilla of Russian naval craft.
Much publicity accompanied the passage of six warships, a submarine and three support ships from Russia, bound reportedly to the Eastern Mediterranean, via the North Sea and English Channel. Nikolay Chiker and its sister-vessel Fotiy Krylov were built in Finland in 1989, the latter having an interesting history including as Tsavliris Giant for Tsavliris Russ, a joint venture with the Greek towage and salvage company. There was a dispute over ownership and it is now back with its Russian name. Nikolay Chiker is clearly currently committed to supporting Russian naval forces.
By Peter Barker